Ticked off by Modi, BJP MP removes father as representative
New Delhi: A BJP MP, who had named her father as representative in her constituency, has removed him following direction from Prime Minister Narendra Modi who had asked his ministers not to appoint any relative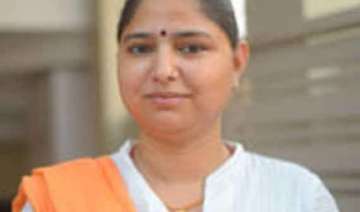 PTI
June 01, 2014 18:30 IST
New Delhi
: A BJP MP, who had named her father as representative in her constituency, has removed him following direction from Prime Minister Narendra Modi who had asked his ministers not to appoint any relative in their personal staff.
BJP sources said MP Priyanka Singh Rawat from Barabanki in Uttar Pradesh took the decision to annul the appointment of her father Uttam Ram after being conveyed that Modi was unhappy with her decision and wanted her to reverse it.  
Rawat had issued a circular on May 26, the day Modi was sworn in as Prime Minister, stating Ram would be her representative and is authorised to conduct all government and development work.
Copies of the circular were sent to district officials, including the district magistrate. She had defended her decision saying the appointment was made before Modi's directions to his ministers.