TMC membership is to turn Saradha black money into white: Rahul Sinha
Kolkata: BJP state President Rahul Sinha today described the membership drive of ruling Trinamool Congress as an effort to collect money from the masses and alleged that it was an attempt to turn the black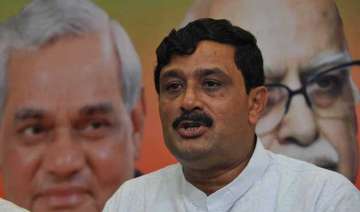 PTI
January 02, 2015 20:31 IST
Kolkata: BJP state President Rahul Sinha today described the membership drive of ruling Trinamool Congress as an effort to collect money from the masses and alleged that it was an attempt to turn the black money of Saradha scam stacked with the party leadership into white.
Ahead of crucial polls of Kolkata Municipal Corporation and 81 municipalities next year, ruling TMC in West Bengal has decided to embark on a membership drive to increase its support base.
"They are demanding money from those who want to become a member of the party. After the fall of Saradha group, this is how they want to convert the black money of Saradha scam into white money," Sinha said.
Sale of paintings of Mamata Banerjee was no longer an option as it was under scanner. So now they have launched this membership drive where one has to pay to become a member of the party, he said.
"This membership in lieu of money proves that TMC is not a party for poor but for rich only," Sinha said.  Sinha also questioned West Bengal Chief Minister Mamata Banerjee, who is also the home minister of the state, for using the Railway Protection Force (RPF) personnel for her security.
"This was astonishing that the chief minister does not have faith on her police personnel and using special protection group of RPF for her security. If she doesn't have faith on her police how come others will have faith on state police," he said.