Told by people that Rahul's speech was good: Sonia
New Delhi: "I was told by people it was good," Congress President Sonia Gandhi today remarked over Rahul Gandhi's first speech in the Budget session in which he made a scathing attack on the Narendra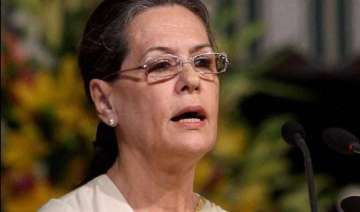 PTI
April 20, 2015 23:06 IST
New Delhi: "I was told by people it was good," Congress President Sonia Gandhi today remarked over Rahul Gandhi's first speech in the Budget session in which he made a scathing attack on the Narendra Modi government on farmers' issue.
"I did not hear the full speech of Rahul as I was busy meeting party leaders and farmers at my residence. But I was told by people it was good," she said replying to a question how was Rahul's speech in Lok Sabha.  
"It's good," she said when asked by reporters on her view on Rahul's comeback after his nearly two months' leave.  In his first speech in the Budget Session of Parliament, the Congress Vice-President said the government cannot give satisfactory replies to the problems of farmers and labourers.  
While Sonia herself was not there, some other senior leaders were also not present including Deputy Leader of the party Amarinder Singh and Kamal Nath.  Party whip K C Venugopal, however, said that there was no whip issued to the members and it was only known in the afternoon that Rahul would be speaking.  
Party sources said that Rahul is expected to utilise to the hilt the remaining short stint of the Budget Session and could be seen intervening more than often.  After holding deliberations with all Lok Sabha MPs of the party including Rahul, Sonia said that the party will keep raising farmers issues.
She also met party leaders and farmers from states including Rajasthan, Haryana and Punjab, a day after Congress launched an offensive against the government over the controversial land acquisition bill at a farmers' rally.  
The party also gave clear indications that it expects the government to send it to Standing Committee of Parliament.  "Whatever bills come newly we want those bills should be sent to Standing Committee," Leader of Congress in Lok Sabha Mallikarjun Kharge said.
Citing an example from past, the former Labour Minister said that the BJP had got a bill sent to the Standing Committee when the UPA government was bringing one small amendment in an earlier bill to change the title of the Act by putting the word "workers" instead of "workmen" to make it gender neutral.
"And now when you are bringing a new bill, with new provisions, should you not refer it to Standing Committee if you believe in democracy? They are bulldozing. This is not the way," Kharge told reporters.