Top 10 highlights of AAP manifesto
New Delhi: AAP chief Arvind Kejriwal today released the party's manifesto for February 7 Delhi Assembly elections.AAP manifesto includes 70-point programme that focuses on  cheap electricity, free Wi-Fi and a women's security force. The manifesto promises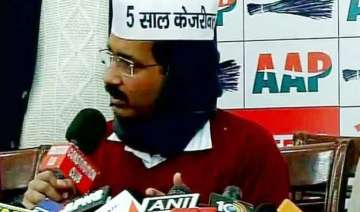 India TV News Desk
January 31, 2015 13:00 IST
New Delhi: AAP chief Arvind Kejriwal today released the party's manifesto for February 7 Delhi Assembly elections.
AAP manifesto includes 70-point programme that focuses on  cheap electricity, free Wi-Fi and a women's security force.
 
The manifesto promises to enhance women's safety by installing CCTV cameras, open 20 new colleges, a 50 percent reduction in power tariff, clean drinking water at affordable prices and a free Wi-Fi zone, among others.
"The AAP's manifesto is work of 4 months, it's about what kind of Delhi we want. One where low class, middle class and everyone develops," Kejriwal said while releasing the manifesto.
"The manifesto is holy to us like Gita and Bible," added Kejriwal.
READ ALSO: AAP no longer a party of "Aam Aadmi"
Here are top 15 highlights of AAP manifesto:
1. AAP to legislate the Delhi Jan Lokpal Bill after coming to power.
2. The Party to legislate the Swaraj Act to devolve power directly to the people
3. To use moral and political authority to push for full statehood for Delhi.
4. To reduce electricity bills by half. Delhi's own power station at the pithead and comprehensively solve Delhi's electricity problem in long run. To provide consumers the right to choose between electricity providers.
5. Comprehensive performance audit of discoms by the Comptroller and Auditor General of India.
6. To enhance women's safety by installing CCTV cameras
7. To open 20 new colleges in the state
8. To provide Water as a Right. Clean drinking water to be provided to all of Delhi at an affordable price. Free lifeline water of up to 20 kiloliters (20,000 liters) to every household per month. Firm implementation of the HC order that entitles Delhi to extra raw water from Haryana in Munak canal
9. To preserve and replenish local and decentralized water resources to augment Delhi's water resources.AAP is committed to clamping down on Delhi's powerful water mafia working under the patronage of political leaders.
10. Several steps will be taken to revive the Yamuna including sewer treatment and control affluent discharge.