Top Kashmiri separatist leaders share dais; call for 'unity' among 'pro-freedom people'
Srinagar: Top three Kashmiri separatist leaders -- Yasin Malik, Mirwaiz Umar Farooq and Syed Ali Geelani -- yesterday shared a common platform after five years at a rally in Narbal.The rally was organised to show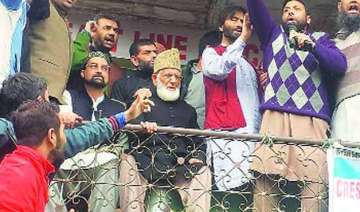 India TV News Desk
April 21, 2015 9:09 IST
Srinagar: Top three Kashmiri separatist leaders -- Yasin Malik, Mirwaiz Umar Farooq and Syed Ali Geelani -- yesterday shared a common platform after five years at a rally in Narbal.
The rally was organised to show solidarity with the family of a teenager killed in police firing last week.
All the leaders called for a 'united stand' on the Kashmir issue saying the 'pro-freedom people' have a similar stand on the Indian occupation and elections.
"We may be separate but we have a unity of thought," Geelani said. 
Mirwaiz said that the ruling BJP at the Centre and also in the state along with the PDP are engaged in efforts to weaken their 'freedom movement'. 
"People of Kashmir are united in pursuing their goal. There is an attempt to rob Kashmir," he said.
The latest episode of event has triggered speculation of renewed efforts to unite Hurriyat factions.
The Hurriyat Conference, an alliance of secessionist parties and leaders, split into hardline and moderate groups in 2003.