Treat issue of West Pak refugees as sensitively as KPs return: Singh
New Delhi: Union Minister Jitendra Singh today said the issue of West Pakistan refugees, which Jammu and Kashmir government has taken up as a policy should be handled with as much sensitivity as the rehabilitation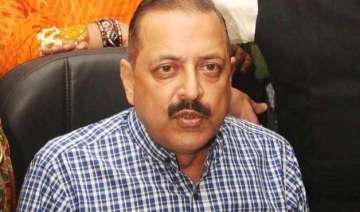 PTI
April 14, 2015 22:54 IST
New Delhi: Union Minister Jitendra Singh today said the issue of West Pakistan refugees, which Jammu and Kashmir government has taken up as a policy should be handled with as much sensitivity as the rehabilitation of Kashmiri Pandits in the Kashmir Valley.
Singh, an MP from Udhampur and Minister of State in the Prime Minister's Office, said displaced Kashmiri Pandit community deserves sympathetic, humane approach and cautioned against any temptation to seek political mileage out of the issue.
As many as 62,000 families of Kashmiri Pandits are settled in Jammu and other parts of the Valley. Recently, Union Home Minister Rajnath Singh had asked state Chief Minister Mufti Mohammed Sayeed to expedite the process for setting up composite townships for Kashmiri Pandits, a move opposed by political parties as well as separatists.
The opposition National Conference as well as separatists said while Kashmiri Pandits were welcome in the Valley, the idea of having separate townships for them was not acceptable.
"It is an irony that a controversy is sought to be created by some of those who always quoted (Atal Bihari Vajpayee's 'Insaniyat Ke Daire Mein' reference to Kashmir but refuse to view" the issue of Kashmiri Pandits within the same parametres, Singh said in a statement.
Pitching strongly in favour of return of the displaced community, he also called for an "equally sensitive approach in handling the cause of the other groups of refugees in Jammu and Kashmir who include the refugees from Pak-occupied Jammu and Kashmir (PoJK) and those from erstwhile West Pakistan who are yet to receive their citizenship rights."