TRS rebuffs Congress, says not to merger
Hyderabad: In a huge setback to the Congress, the Telangana Rashtra Samithi (TRS) Monday ruled out a merger with it.After six-hour long meeting of its general body, the TRS chief K. Chandrasekhara Rao announced Monday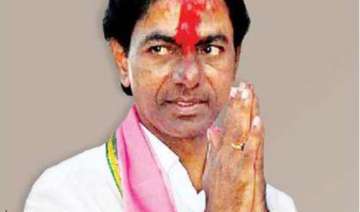 IANS
March 04, 2014 11:04 IST
Hyderabad:
In a huge setback to the Congress, the Telangana Rashtra Samithi (TRS) Monday ruled out a merger with it.
After six-hour long meeting of its general body, the TRS chief K. Chandrasekhara Rao announced Monday night that the party has unanimously decided not to merge with Congress.
The party constituted a five-member committee to discuss electoral alliance, if other parties approach it. He said the panel would be open for an alliance with all parties including Congress.
KCR, as Rao is popular among his supporters, said the unanimous view of the party leaders was that under no circumstances, should the party merge with the Congress.
"Telangana needs its voice for rebuilding the state and hence we have decided that TRS will continue as a party, fight elections and stand by people," he said.