Uma Intends To Join NDA , Not BJP
Bhartiya Janshakti Party president Uma Bharti on Tuesday  said she had sent a proposal to NDA leaders for joining the alliance but had no intention of going back to the BJP fold.  "On the basis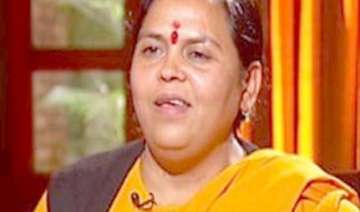 PTI
November 17, 2009 23:07 IST
Bhartiya Janshakti Party president Uma Bharti on Tuesday  said she had sent a proposal to NDA leaders for joining the alliance but had no intention of going back to the BJP fold. 
"On the basis of experiences in the last five years, I have realised that to become a national entity, you need to be a part of a bigger alliance. 
"Therefore, I have sent a proposal to Sharad Yadav and Lal Krishna Advani to join the NDA," she told reporters in Lucknow .
"I had a bitter experience after floating the new party. I have realised that if you work without an alliance, you are confined to one particular state," Bharti said. 
Ideologicallly her party was more close to the NDA on certain issues, she said but added that did not mean "I will join the BJP". 
"Being a partner in the NDA and joining the BJP are two different things," the former Madhya Pradesh Chief Minister said. 
The firebrand leader said her party had certain ideology which made it different from other political outfits. 
"We have different views on the women reservation bill, special economic zones and the Indo-US nuclear deal. We will stick to our stand on these issues," she said. PTI