Under-fire AAP defends its leader Kejriwal
New Delhi: The Aam Aadmi Party (AAP) today defended its leader Arvind Kejriwal for his controversial comments on sending media persons to jail, saying he was referring to a section of media which was running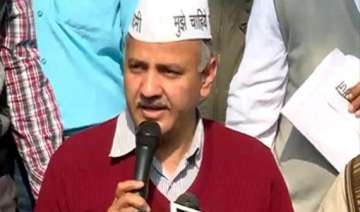 PTI
March 14, 2014 17:24 IST
New Delhi:
The Aam Aadmi Party (AAP) today defended its leader Arvind Kejriwal for his controversial comments on sending media persons to jail, saying he was referring to a section of media which was running an "agenda" of BJP and its Prime Ministerial candidate Narendra Modi.
"Arvind Kejriwal has said that a section of media was implementing the agenda of Modi and BJP.
His comments were directed against them. His comments were against those who
distort news and resort to paid news," senior party leader Sanjay Singh told a press conference here.
Party spokesperson and former news channel editor Ashutosh, who was also present at the press conference, pointed out that a recent sting operation conducted by it had shown that some of the agencies which conduct opinion polls before elections are willing to tweak their findings for money.
"No action has been taken against television channels and the opinion poll agencies yet," Ashutosh, who is contesting from Chandni Chowk Lok Sabha seat on a party ticket, said.