Union Minister's visit to North East to be a fortnightly affair now
New Delhi: With northeast India being a key focus area of the Narendra Modi government, at least one Union minister will now have to visit one of the states in the region every fortnight.In a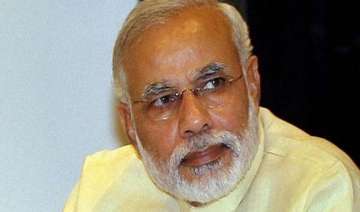 PTI
January 09, 2015 16:31 IST
New Delhi: With northeast India being a key focus area of the Narendra Modi government, at least one Union minister will now have to visit one of the states in the region every fortnight.
In a meeting of the Union Council of Ministers on Monday, Modi had emphasised that the ministers should put the seven northeastern states as well as the Himalayan state of Sikkim on their map.
He had asked them to spend "reasonable" duration of time in these states and chalk out their schedules accordingly.  Union Chemical Minister Ananth Kumar has been assigned the role of initial coordination with the ministers to ensure their presence in the region on a regular basis. He also met some of the ministers over the issue three-four days back to chalk out the schedule.
All Union ministers—Cabinet, Ministers of State with Independent Charge and Ministers of State—have been asked to submit their travel plans to the northeast region in the coming days.
"We are free to choose any state we plan to visit. The visit may include meeting local leaders and officials on the issue of development," a minister said speaking on the condition of anonymity.
Sources in the government say that northeast and Jammu and Kashmir are key focus areas for the Prime Minister and he is particular that the plans of the government to reach out to people in these regions are carried out with precision and proper planning.
During his four-day trip to the NE states in November-December last year, the Prime Minister had said that while the rest of India which had SEZs (Special Economic Zones), the northeast region was full of NEZs - "Natural Economic Zones".
In his speech then, Modi had also taken a jibe at former Prime Minister Manmohan Singh claiming that he did not visit Nagaland during his 10-year tenure.
BJP has minimal presence in the northeastern region. In this Assembly election in Jammu and Kashmir, BJP after a blitzkrieg campaign by Modi, had made a spectacular show. 
Of the 25 Lok Sabha seats in these NE states, BJP and its allies got 10 seats in the 2014 Lok Sabha polls, while Congress, which was the dominant party, had to contend with eight seats.
In 2009 polls, Congress and its allies had won 14 seats while BJP plus had got six seats. Out of this Congress had secured 13 seats while its ally Bodoland Peoples Front had got one seat in Assam.