Unite and create a miracle, Advani exhorts BJP workers
Mumbai: Veteran BJP leader L K Advani on Sunday said the Lok Sabha elections next month will see his party put up its best-ever performance."Unite and create a miracle," Advani said, addressing party workers at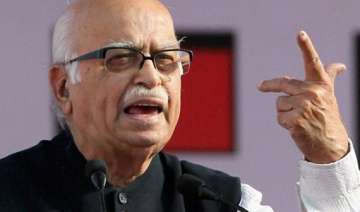 PTI
March 17, 2014 9:39 IST
Mumbai:
Veteran BJP leader L K Advani on Sunday said the Lok Sabha elections next month will see his party put up its best-ever performance.
"Unite and create a miracle," Advani said, addressing party workers at a meeting of the Sindhi cell of BJP here this evening.
He said BJP's best tally in Lok Sabha to date was 182, but it will be bettered this time.
"While Congress will see its lowest-ever figures, the post-emergency election saw lowest strength of the Congress in the Lok Sabha. This time, it will be much lower," the BJP leader said.
"We should have become the greatest country in the world in the 20th century itself, but could not, because of poverty and lack of education," he said.