V K Singh should apologise to media: Rajeev Shukla
Kanpur: Criticising Union Minister of State for External Affairs V K Singh over his remarks dubbing newsmen as "presstitutes", Congress MP Rajeev Shukla said he should "better apologise to the media"."I strongly condemn his comments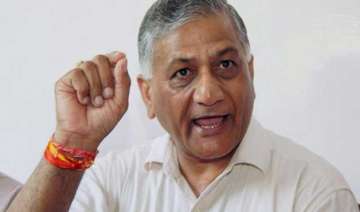 PTI
April 09, 2015 23:30 IST
Kanpur: Criticising Union Minister of State for External Affairs V K Singh over his remarks dubbing newsmen as "presstitutes", Congress MP Rajeev Shukla said he should "better apologise to the media".
"I strongly condemn his comments about media. There is no place for such words in democracy. Such words should not be used about media. I believe it would be better if he apologise to the media," he said on the sidelines of an award ceremony at the Green Park stadium here.
Singh, who is currently in Djibouti to oversee evacuation of Indians from Yemen, had on Tuesday compared the rescue operation from the war-torn country with his visit to the Pakistani mission recently, saying the evacuation was "less exciting". However, he later made snide remarks against a TV channel for playing up his comparison remarks.
"Friends what do you expect from presstitutes," he said in a tweet late last night on Tuesday.
His remarks elicited sharp reactions from political parties as well as a media body.
Meanwhile, reacting to a Pakistan court's order to release 26/11 attack mastermind Zaki-ur Rehman Lakhvi, Shukla said that government of India should lodge "strong protest" to Pakistani government in this regard.
Lakhvi is a culprit in the Mumbai terror attack. He was involved in it. And Indian government should take a "strong stance", he said.