Vadra deal: AAP hails Ashok Khemka, offers ticket to contest against Hooda
New Delhi, Aug 10: Arvind Kejriwal's Aam Aadmi Party today came out in support of whistleblower IAS officer Ashok Khemka, who has alleged ireegularities in Robert Vadra-DLF land deals, and asked him to contest against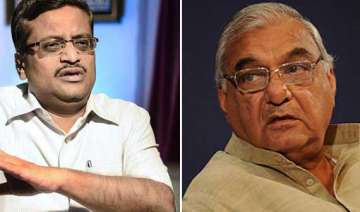 PTI
August 10, 2013 21:11 IST
New Delhi, Aug 10:
Arvind Kejriwal's Aam Aadmi Party today came out in support of whistleblower IAS officer Ashok Khemka, who has alleged ireegularities in Robert Vadra-DLF land deals, and asked him to contest against Haryana Chief Minister Bhupinder Singh Hooda on the party ticket.
"If Congress party would have been serious about dealing with corruption and protecting whistleblowers they would have not only brought Jan Lokpal Bill, but dismissed Hooda, protected Khemka and brought the Whistleblower Protection Act," AAP said in a statement.
The AAP believes that the scourge of corruption can only be cleaned by ushering in clean politics, it said.
"We call upon honest and patriotic Indians like Ashok Khemka to come forward and take up this challenge of cleaning the political system by creating a political alternative," it said.
The Kejriwal-led party said that it was "too much" to expect from a party that was involved neck deep in corruption all around.
The only option left for the people is to throw out these parties in a massive electoral revolution in the next election and put in place people who are committed to the Jan Lokpal and public interest, the AAP said.
"Ashok Khemka has shown exemplary courage. We salute him. We urge him to take one more step. He should quit his job and join politics. How long will people like him keep on serving these unscrupulous politicians? People like him ought to be in Assemblies and Parliament," the statement said.
"It is people like him who ought to be making laws. AAP urges Khemka to join the party and fight elections directly against the present Congress CM Hooda," it said.
In his "voluminous reply" submitted to Haryana government's three-member enquiry committee set up in October last to look into Vadra-DLF deal, Khemka is understood to have alleged that Vadra, who is Congress President Sonia Gandhi's son-in-law, executed a series of "sham transactions" for 3.53 acres of land in Shikohpur village of Gurgaon.
AAP termed Congress President's stand on suspended Uttar Pradesh IAS officer Durga Shakti Nagpal as "shedding of crocodile tears" and said she "not only allowed, but seems to have abetted the victimisation of Khemka".