Vaiko Flays Centre For Failure To Pass Lokpal Bill
Chennai, Jan 1: MDMK leader Vaiko today criticised the UPA Government for failure to pass Lokpal Bill in  Rajya Sabha and opposed inclusion of Lokayukta in the legislation, saying it was an encroachment on the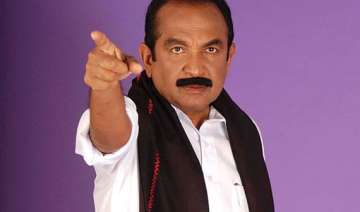 PTI
January 01, 2012 18:12 IST
Chennai, Jan 1: MDMK leader Vaiko today criticised the UPA Government for failure to pass Lokpal Bill in  Rajya Sabha and opposed inclusion of Lokayukta in the legislation, saying it was an encroachment on the state's rights.

"Congress does not care to pass the Lokakuyta bill in the Parliament. We condemn the Centre for not passing it, due to some opposition. At the same time, it is not right for some parties not to let the government pass it," he told reporters.

On Lokayukta, he said the centre should not "encroach upon the domain of the states and it can give only general guidelines but the decision should be left to the states."

Referring to the protest against Koodankulam Nuclear Power Plant, he said, "it is a genuine protest and insulting their cause is not right (on the part of the Centre)."

On the Mullaperiyar dam row, he accused political parties in Kerala of misleading people by giving wrong information and whipping up passions about the safety of the reservoir.

"If Kerala people try to demolish the dam, that will be disastrous not only for Tamil Nadu, but also for their state," Vaiko said clarifying that he was not against the people of the neighbouring as projected in sections of media there.

Kerala media was picturising him as if he was whipping up passions against that state, Vaiko, who had earlier given a call for economic blockade of the neighbouring state, claimed.

He said the Mullaperiyar dam was constructed with Roman mortar and concrete, the same that was used to build the banks of Suez Canal and other Asian dams, and there was no possibility of it collapsing.