Veteran Congress leader Balram Jakhar passes away
New Delhi: Veteran Congress leader and former Lok Sabha Speaker Balram Jakhar passed away in New Delhi on Wednesday morning. He was 92.Jakhar was elected to the Punjab Legislative Assembly in 1972 and was re-elected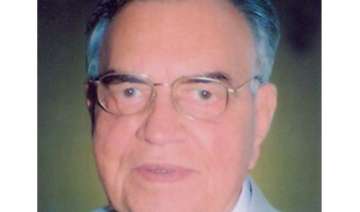 IANS
February 03, 2016 12:45 IST
New Delhi: Veteran Congress leader and former Lok Sabha Speaker Balram Jakhar passed away in New Delhi on Wednesday morning. He was 92.
Jakhar was elected to the Punjab Legislative Assembly in 1972 and was re-elected in 1977 becoming the Leader of the Opposition. He was elected to the seventh Lok Sabha from Ferozepur in 1980 and re-elected to the eighth Lok Sabha from Sikar in 1984.
Jakhar served as Speaker of Lok Sabha from 1980 to 1989 during which he contributed to the establishment of Parliament Museum.
He also served as Agriculture Minister in the Cabinet of former Prime Minister Narasimha Rao. Jakhar also served as Governor of Madhya Pradesh from June 30, 2004 to May 30, 2009.
He was also the first Asian to be elected as Chairman of Commonwealth Parliamentarian Executive Forum.
He was born in Panchkosi village of Fazilka district in Punjab now in Abohar on 23 August 1923. Jakhar earned a degree in Sanskrit from Forman Christian College, Lahore, in 1945.
Condoling his death, Prime Minister Narendra Modi said he was a popular leader who enriched Parliamentary democracy.