VHP yatra banned for maintaining peace, harmony: Azam Khan
Muzaffarnagar: Under attack over ban on VHP's proposed Yatra from Ayodhya, Uttar Pradesh Minister Azam Khan has said it was banned to maintain peace and harmony in the state and accused the activists of trying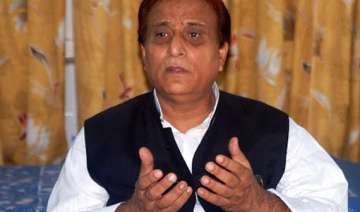 PTI
August 23, 2013 15:00 IST
Muzaffarnagar:
Under attack over ban on VHP's proposed Yatra from Ayodhya, Uttar Pradesh Minister Azam Khan has said it was banned to maintain peace and harmony in the state and accused the activists of trying to create tension for political mileage.
"Some activists have been trying to create tension for political benefits. It is the duty of the state government to maintain law and order and no one will be allowed to hamper peace in the state," the state Minister for Urban Development told media here last evening.
He said the state government had taken the step on the reports of district authorities where the VHP's yatra was proposed.
The government has denied permission to VHP's 'Chaurasi Kosi Yatra' scheduled between August 25 and September 13 from Ayodhya, citing security reasons.
VHP president Ashok Singhal had accused Samajwadi Party supremo Mulayam Singh Yadav of buckling under pressure of Khan in banning its proposed yatra and said that it will go ahead with its plan.
Singhal had warned UP government of "adverse consequences" if it used force to enforce the ban.