V K Singh apologises for 'presstitutes' remark in Rajat Sharma's show Aap Ki Adalat
New Delhi: Union Minister of State for External Affairs retired General V K Singh today tendered his apology for his "presstitutes" remark made on social media Twitter, but added that his apology was only to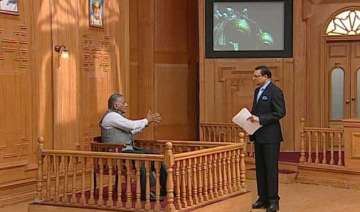 India TV News Desk
April 12, 2015 11:36 IST
New Delhi: Union Minister of State for External Affairs retired General V K Singh today tendered his apology for his "presstitutes" remark made on social media Twitter, but added that his apology was only to the "responsible and good media" and not to those who 'did the wrong thing'.
Grilled by Rajat Sharma in the show Aap Ki Adalat, to be telecast tonight (at 10 pm) on India TV, Gen Singh said: "If the responsible and good media thinks that it has been offended by a single word of mine, I tender my apology here publicly to that media, but not to those who did the wrong thing."
"I think my word does not apply to  95 per cent of media, which acts responsibly and understands that this word was not meant for them. ...I had named the person whom I had attacked (on Twitter)."
"I never generalized (about media). Those who are well-read will know the true meaning, they will not deduce the incorrect meaning", said the former Army Chief.
When Rajat Sharma told Singh that his two earlier tweets giving definitions of 'disgust' and 'duty' soon after attending the Pakistan High Commission reception on March 23 had given the impression that he was being forced to attend the reception and that he was unwilling to go, the retired General said: "There was nothing of the sort. I had only given definitions of two words in those tweets.
"Disgust, because they were running (TV debate)  the whole day. The moment I came out (from the reception), they had panels ready to debate. In one panel, it was said that the army's morale has gone down because Gen V K Singh went there. How can they make such a ridiculous comment, which is highly illogical?"
"As minister of state, I attend most of the National Day receptions. I have a system in place. Maximum 20 minutes and minimum 15 minutes. At National Day receptions, national anthems of both countries are sung, I shake hands and leave. This is part of protocol, and the rest is social gathering.  But (TV channels) debated on this for the whole day as if I was going to spend my night there (at the reception). Doing formalities as per protocol and conducting policies are two different issues".
Asked by Rajat Sharma why he did not say so in so many words instead of posting cryptic word definitions on Twitter, Gen Singh said: "The problem is: if you say something, that too will be twisted. That's why I had posted the definitions, but even those definitions were interpreted as if I was saying something...Next time, I will post explanation instead of definition."
Lashing out at a section of visual media, V K Singh said: "Today when you have the power to go up to anybody's bedroom to place facts, people want that you only place the facts, instead of adding more to the facts. ..but when you carry out a sort of campaign the whole day, the motive appears to be different.....
"If one makes remark about an Army Chief that he was trying to carry out a coup, you are castigating the patriotic institution, and such a smear can never be washed away. Here I had named the person and the channel in my tweet. For two days you go on saying that I went to the Pakistani High Commission, had dinner, hugged the separatists, whereas nothing of the sort happened. Every year on March 23 on Pakistan Day, the High Commission holds a function, every year a minister attends, every year separatists come. What was new this year? but they want on the whole hog since the morning".
The former Army Chief reminded how Gerard Celente had coined the word "presstitutes" for the American media.
Singh said: "It was Gerard Celente who coined this word, which I do not want to mention here. The meaning was simple - a journalist who sells his pen for some work. Here, some people used words like 'bazaaru media' 'bikau media'..there is no other meaning to it. I told several people, please search on Google.  And I have said it many times: most of our media acts in a highly responsible manner, works effectively. We still have 'jholawala' journalists who work for reforming society and have ideals, but of late, some loud-mouthed ('badboley') people have come, they have inflated ego ('ahankaar').. they think whatever they say is the truth, or they can oppress or malign anybody on any issue. So I used that word for those type of journalists."

On India-Pakistan relations in the context of terrorist Zakiur Rehman Lakhvi's release, Singh was reminded by Rajat Sharma of how Prime Minister Narendra Modi had told him in Aap Ki Adalat last year that he would "reply to Pakistan in its own language" if he came to power.
Singh replied: "The Government of India has conveyed its concern. India has said, this was a wrong step. There are two ways of saying things. One, you say okay, you released him, no issue, and the other way is: you send a strong message saying this is wrong, and the intent behind it is to mean that we will do something. If that country understands the meaning of this message, it will act on its own. Modiji had said, we will reply to Pakistan in its own language, and nobody should have any doubts on that score.  But then, do not assume that we will reply in their language today itself. There will be a day, a time, which will be pre-determined so that when something happens, it will be for the better."
Asked how India would retaliate for the beheading of its jawans on the border, Singh said: "As far as beheading of jawans is concerned, the method of retaliating is different. That is why I have said, there is a difference between formalities (of attending receptions) and policy."
On frequent shelling across the border, Singh said: "We have already told our troops what to do. They have the resources, the planning, the skills, everything, to do their work. Pakistan is our neighbouring country. Modiji had invited leaders of all neighbouring countries to his swearing-in ceremony. You can chose your friends or enemies, but not your neighbours. Neighbours will be neighbours. How to co-exist with them depends on us. The Government of India has been trying to remove tensions in relations. For that, there are two ways: through diplomacy, and secondly, by telling them that this is the line which you should not cross."
Aap Ki Adalat with Gen V K Singh will be telecast tonight  at 10 pm on India TV. The repeat telecast of this show will be made on Sunday (April 12) at 10 am and 10 pm.