Vote intelligently, says apolitical Aamir Khan
Mumbai: Aamir Khan is guarded about sharing his views on any political party and when it comes to the new Aam Aadmi Party (AAP) the actor-filmmaker prefers to wait and watch. Meanwhile, he has urged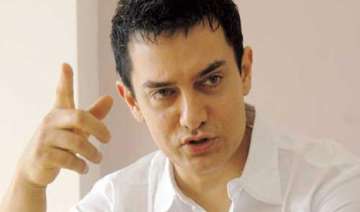 IANS
March 14, 2014 17:09 IST
Mumbai:
Aamir Khan is guarded about sharing his views on any political party and when it comes to the new Aam Aadmi Party (AAP) the actor-filmmaker prefers to wait and watch. Meanwhile, he has urged the youth to step out and vote intelligently in the polls.
At a press conference at his residence on his 49th birthday Friday, Aamir was asked which party he is favouring and he said: "I am not supporting any political party's campaign, nor do I support any political party."
"It's a democratic country and I believe each person should take their own decision and must go out and vote intelligently," he added.
Looking fit as a fiddle, the "3 Idiots" and "Dhoom 3" actor believes the youth especially must cast their vote.