Rare pictures of Smriti Irani, the union HRD minister
New Delhi: Smriti Irani is presently the union minister for Human Resource Development in Modi government.In 2014 Lok Sabha elections, Smriti Irani had been handpicked by Narendra Modi to challenge Rahul Gandhi from Amethi parliamentary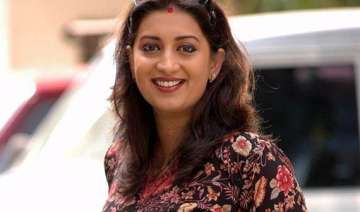 India TV News Desk
October 27, 2014 12:37 IST
New Delhi: Smriti Irani is presently the union minister for Human Resource Development in Modi government.

In 2014 Lok Sabha elections, Smriti Irani had been handpicked by Narendra Modi to challenge Rahul Gandhi from Amethi parliamentary constituency. Despite losing the battle, she fought well and gave him a tough time.

Smriti Irani was born, the eldest of three sisters to a Delhi based family. Her father is a Punjabi and her mother is a Bengali, related to Tripti Mitra a well known Bengali actress of yesteryears. Smriti's father owned a courier business.

Smriti Irani is married to her childhood friend Zubin Irani.