We won't allow Muslims to become minority in Kashmir, says JKLF chief Yasin Malik
Srinagar: Separatist Kashmiri leader Yasin Malik has warned of a wider agitation in Kashmir saying that people of the Valley would not allow anybody to change the demography of the state and turn Muslims into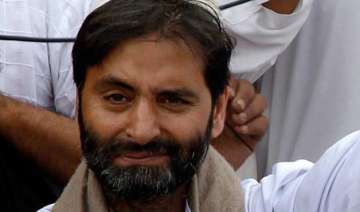 India TV News Desk
January 17, 2015 18:29 IST
Srinagar: Separatist Kashmiri leader Yasin Malik has warned of a wider agitation in Kashmir saying that people of the Valley would not allow anybody to change the demography of the state and turn Muslims into minority here.  
Speaking to reporters here, Yasin Malik said:  "Settlement of West Pakistan refugees in J&K is not a matter of Hindu versus Muslims or Jammu versus Kashmir.
"It concerns identity and rights of the people of the state. However, radical religious fanatics in India are trying to communalize the issue", he added.
" I want to tell them that State Subject law was enacted by none other than the Hindu ruler of Jammu and Kashmir Maharaja Hari Singh to safeguard fragile ecology and identity of the state.
"J&K is blessed with forests, glaciers, water bodies and wetlands and these natural resources are protected throughout the world. Besides Jammu and Kashmir, the State Subject law is also in force in many hilly states of India including Himachal Pradesh and Mizoram to safeguard their ecology.
"The Maharaja of Jammu Kashmir enacted the law prohibiting outsiders from permanently residing in Jammu Kashmir to save the state from turning into a desert. Even the law disallows girls of J&K to inherit property if they marry an outsider or non-state subject," he said.
Malik alleged that in 1947, properties of those killed or forced to go to Pak-Occupied Kashmir were confiscated and when the state assembly in 1982 passed a resolution regarding those people, the Indian state opposed and halted the resolution."
Malik also alleged that conspiracies are being hatched at the behest of RSS and its allies under the garb of religion and these will be foiled.
Malik maintained that "as human beings we also share the pain of refugees from West Pakistan. However, if the Indian state, its parliament and political parties are concerned about them why do not they settle them permanently in states like Punjab, Haryana and Uttar Pradesh?
"Why is India hell bent upon destroying Jammu and Kashmir, its ecology and special status only?" he asked.
"The refugees from West Pakistan are in every respect the citizens of India. They are not part of J&K and will never be so in future also.
"Granting them permanent citizenship of Jammu Kashmir, right to vote, is a conspiracy to destroy the existing social fabric, demography and majority Muslim status," he said.
"People of Jammu Kashmir will never remain silent spectators to these conspiracies and we will defend the special status of Jammu Kashmir, its Muslim character, its ecology and environment even at the cost of our lives," he said.
"We are closely monitoring the plans of Government of India on the WP refugees. We will continue our resistance against these conspiracies by holding protests, sit-ins, processions, seminars and other programs in all districts of Jammu and Kashmir to safeguard the special status", he said.