What is government doing to stop border attacks: Mulayam
New Delhi, Aug 6: Samajwadi Party leader Mulayam Singh Yadav Tuesday demanded that the government inform parliament about the steps it was taking to stop repeated intrusions across the border by China and killings of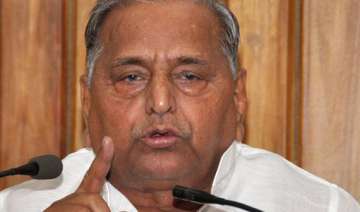 IANS
August 06, 2013 15:06 IST
New Delhi, Aug 6
: Samajwadi Party leader Mulayam Singh Yadav Tuesday demanded that the government inform parliament about the steps it was taking to stop repeated intrusions across the border by China and killings of Indian soldiers by Pakistan.
Speaking in the Lok Sabha during a discussion on the killing of five Indian soldiers by Pakistani troops in Poonch sector of Jammu and Kashmir, Mulayam Singh Yadav said both Pakistan and China were "not to be trusted".
Yadav said there were frequent incidents of intrusions by China across the Line of Actual Control and ceasefire violations by Pakistan on the Line of Control as well as killings of Indian soldiers.
"We want to know what the government is doing to thwart such attacks," he demanded.
"Pakistan and China may have some secret understanding... Why is China intruding repeatedly on our border. Both China and Pakistan have come near our borders. The whole house is concerned for the country's security and unity," he said to loud thumping of desks.
Yadav also said that India's first prime minister Jawaharlal Nehru had been "deceived" by China and that he could not withstand the "dhoka" (betrayal) of the 1962 war with China, which India lost.
"China made fools of India and deceived us, Nehru could not withstand the deception and died," he said and added that China is "practising deception" by its friendly overtures and was not to be trusted.
He reiterated what he has said earlier that China is preparing to attack India and has created a plan for it with an eye on Himachal Pradesh and Arunachal Pradesh, which they claim as their territory.