Why Giriraj Singh is indispensable for BJP
With Bharatiya Janta Party drawing flak for its union minister Giriraj Singh's controversial remark on Sonia Gandhi,  the clamour for his ouster has got stronger but silence of Party High command  over the issue is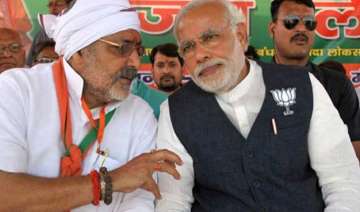 India TV News Desk
April 01, 2015 22:58 IST
With Bharatiya Janta Party drawing flak for its union minister Giriraj Singh's controversial remark on Sonia Gandhi,  the clamour for his ouster has got stronger but silence of Party High command  over the issue is not surprising, it could be attributed to various reasons.
 
First and foremost, Giriraj Singh has been a staunch supporter of Prime Minister Narendra Modi from beginning; he stood by him during his stand-off with Nitish Kumar .Secondly Singh is also a foremost critic of RJD Supremo Laloo Prasad Yadav .
Also Read: Amit Shah scolds Giriraj for his 'white skin' remark, Nigerian envoy demands apology
 
Third and most importantly , Singh comes from the powerful Bhumihar community that wields exceptional political clout in the state. With Bihar Assembly elections in the sight, the saffron party cannot afford to red flag him.  
 
Meanwhile, Singh has expressed regret for his remarks. The minister said he was only chatting informally, off the record.
 
Singh, a first time MP from Nawada in Bihar has a history of making  offending remarks. He fuelled a fresh controversy on Tuesday when he targeted Congress president Sonia Gandhi, questioning whether the party would have accepted her as its chief if the colour of her skin hadn't been white.
 
"If Rajiv Gandhi had married a Nigerian lady and not a white-skinned woman, then would the Congress have accepted her leadership?" Singh said after an interaction with media in Bihar's Hajipur.
 
Poking fun at Rahul Gandhi, Singh said "If the Congress was in power, if we weren't in power, and if Rahulji was the prime minister, and for some reason the prime minister would disappear for 43 to 47 days, then what would have happened?"
 
The Congress said the remarks on their party chief were bordering on insanity.
 
Before last year's national election, he had said that critics of Mr Modi, his party's then prime ministerial candidate, should be forced to move to Pakistan.