Why Is Rahul Silent On Pricerise, Asks Shah Nawaz
BJP leader and former union minister, Shahnawaz Hussain on Tuesday criticised AICC general secretary, Rahul Gandhi for allegedly keeping silent on the issue of increasing price rise in the country. Addressing a press conference in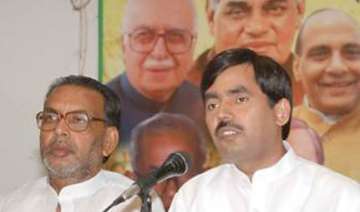 PTI
November 17, 2009 17:23 IST
BJP leader and former union minister, Shahnawaz Hussain on Tuesday criticised AICC general secretary, Rahul Gandhi for allegedly keeping silent on the issue of increasing price rise in the country.
Addressing a press conference in Jamshedpur, Hussain said it was appreciable that Gandhi was visiting Dalits and poor dominated villages in the country to know their living conditions but unfortunately, he did not speak anything about the increasing price rise, which hit hard the common man badly.
"It is really good that Gandhi has been researching about poverty and why there was no electricity in Kalawati's house even after 60 years of Independence," Hussain said referring to Gandhi's visit to Dalit woman Kalawati's house in Maharashtra two years ago.   "Who is responsible for it?," Hussain asked stating that the Congress had been at the helm of affairs in the country for decades except for a brief interlude.
Hussain, who addressed a election meeting in minority dominated Mango under Jamshedpur West Assembly segment in favour of party candidate Saryu Rai last night, claimed that minority community in the counrty were fed up of Congress.
Referring to the Sachar Committee report, Hussain said the report was nothing but "Congress party's failure to address minority community's interest".
To a query about Shiv Sena supremo Bal Thackeray's comment about Sachin Tendulkar, Hussain said he supported Tendulkar's statement and the country was proud of the cricketer.
 Hussain alleged that Congress party was trying to hush up the Rs 2000 crore money laundering scam involving former Jharkhand Chief Minister, Madhu Koda.
 A Member of Parliament from Bhagalpur constituency, Hussain demanded that the investigators should find out how did Koda carry such huge amount?
Hussain said BJP had demonstrated across the country with big bags after the Harshad Mehta securities scam in 1992 in which State Bank of India had lost RS 660 crores and had pointed an accusing finger at sitting Congress Prime Minister Narasimha Rao.
The money involved in the Koda episode was much higher and the investigating agencies should find out how did he carry the amount? Was it a bag or a trunk?, Hussain said alleging that RJD and Congress leaders were also involved in the scam.
"Koda is only the king of the scam but we want the kingmakers involved in the scam should also be booked immediately", Hussain said demanding that the investigating agencies should make public the information gathered in course of interrogation so far in this regard.
He also demanded that the Congress-led UPA government should apologise in public for installng Koda, an Independent, as Chief Minister of Jharkhand.
Hussain wondered how such a big scam had gone uunoticed by the Union Finance Minster and the Home Minister. PTI