Why is Sonia Gandhi œsilent on Aiyar's remarks on Paris terror attack: BJP
New Delhi: BJP today questioned Congress President Sonia Gandhi's "silence" on statements of prominent party leaders "justifying" the Paris terror attack on journalists and demanded a response from her even as it asked the opposition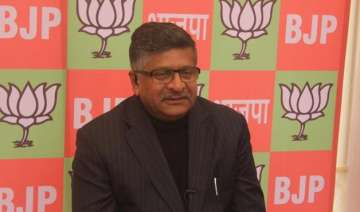 PTI
January 09, 2015 19:40 IST
New Delhi: BJP today questioned Congress President Sonia Gandhi's "silence" on statements of prominent party leaders "justifying" the Paris terror attack on journalists and demanded a response from her even as it asked the opposition party to stop "vote-bank" politics.
"Why Madam Sonia Gandhi you are maintaining a conspicuous silence on those kind of statements emanating from very responsible quarters. We would like to know....It is very unfortunate. We condemn this," Telecom Minister Ravi Shankar Prasad said at a press conference.
Prasad said "we are quite intrigued by the voices coming from the Congress establishment".Commenting on Congress leader Mani Shankar Aiyar's remarks on the Paris terror attacks, he said "it is a shameful, rabid justification of the attack on journalists in Paris."
The Union Minister said Aiyar is a senior leader and he carries weight in his party and thus BJP would like Congress to clarify.Aiyar had yesterday described the Paris terror attack as a "backlash" and a "reaction" on the way the war on terrorism is being waged and noted that Muslims were killed in Iraq and Afghanistan without any discrimination of being "innocent" or otherwise.
"It is imminent that there will be a reaction. So, I think the way the war on terrorism has been going on, it was known that it will have this kind of reaction. It is happening now and France needs to see how it can be prevented.
"We have to accept that since the time the war on terror began in the aftermath of 9/11, Muslims have been killed without any distinction between the innocent and the guilty.  This has been done by America in Iraq and Afghansitan. And now it seems that they will do it in Syria as well. So, a backlash to this is imminent," Aiyar had said.
Prasad said when the whole world is fighting terrorism and is standing as one, what is  Congress party's leadership saying."We would like to ask Sonia Gandhi why she is silent on these statements. We see a pattern in this," he said citing examples of how Congress leader Digvijay Singh had questioned the Bhatla House encounter here and former Home Minister Sushilkumar Shinde talked of 'saffron terror' at a party function in Jaipur.
"Sonia Gandhi, your partymen demand an answer from the Prime Minister in Parliament everyday, Parliament is not allowed to function. Why is there silence on the comments of your prominent leaders," he said.