World desirous of Modi's bold leadership for clean energy: Ban Ki-moon
Vadodara:  United Nations Secretary General Ban Ki-moon today underlined the need for transforming global energy systems to reduce threat of climate change even as he hailed Prime Minister Narendra Modi's "bold leadership" initiative to bring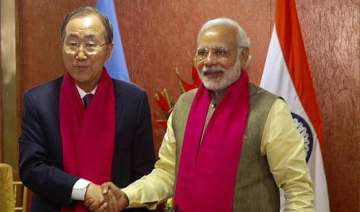 PTI
January 12, 2015 8:21 IST
Vadodara:  United Nations Secretary General Ban Ki-moon today underlined the need for transforming global energy systems to reduce threat of climate change even as he hailed Prime Minister Narendra Modi's "bold leadership" initiative to bring about a clean energy revolution.  Ban also appealed to end the "energy poverty" before addressing extreme poverty.
"We cannot reduce the threat of a climate change without transforming global energy systems," the UN Secretary General said after inaugurating Gujarat's first 10 MW solar power plant on Narmada river canal here.
The Rs 109.91 crore project comprises around 33,000 to 36,000 solar panels and has been designed in a manner that the panels will sustain a wind velocity of 150 kilometres per hour. The plant will produce 16.2 million units of power in the first year.
"I have an initiative to jumpstart this transformation.  It's called sustainable energy for all. It brings together public and private partners. We are working to dramatically increase energy access, energy efficiency and the use of renewables by year 2030," Ban said, adding "We have an historic opportunity to transform our societies and this project shows us how."
Observing that the "right approach" to energy can drive progress on three pillars of sustainable developments - economic dynamism, social progress and environment sustainability, he said, "People of all faiths and all countries have for millennia appreciated the immense value and power of our sun, but we have only just begun to harness sun's energy for good of our planet and its people."
Ban also lauded Modi for the latter's "commitment to dramatically scale-up renewable energy." "I applaud his (PM's) pledge to light every household in India with a solar lightbulb. This is the kind of bold leadership the world needs to reap the benefits of the clean energy revolution," he said.
Ban said he was counting on all partners to continue to support common goals on energy front.  "Engage actively, make commitments, invest your resources and take actions...Together we can create a safe, more prosperous world for all," he said, adding solar power protects the environment.
"It (solar power) creates development, it helps us conserve land and it promotes health and prosperity... More solar power means less pollution which will lead to cleaner air and healthier lives.
I welcome government's recent announcement to dramatically scale up solar power to equal more than 10 per cent of total energy mix by 2022," the UN Secretary General said.
He also praised Central government for organising the first renewable energy investors summit, RE-invest, in Delhi next month."India offers immense opportunities to investors who, like its prime minister, are on a cleaner energy future," Ban said, adding that a special representative of UN will attend the summit.