World Has Respect For Indian Democracy, Says Meira Kumar
Speaker Meira Kumar on Thursday  disapproved the MNS action targeting a Samajwadi Party member in Maharashtra Assembly for not taking oath in Marathi, suggesting that such incidents tarnish the image of Parliamentary democracy.  "The whole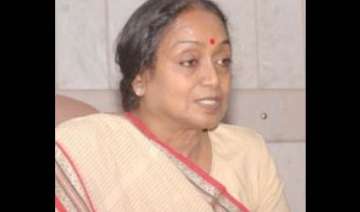 PTI
November 12, 2009 20:05 IST
Speaker Meira Kumar on Thursday  disapproved the MNS action targeting a Samajwadi Party member in Maharashtra Assembly for not taking oath in Marathi, suggesting that such incidents tarnish the image of Parliamentary democracy. 
"The whole world has respect and admiration for the Indian democracy including Parliament and the State Legislatures," she said when asked how she viewed the incident and whether it has tarnished the image of democracy. 
She noted that MPs were free to take oath in as many as 22 languages and it was their right.  However, state assemblies have their own rules on the languages used in oath taking. 
On Union Minister M K Alagiri's request for speaking in Tamil in Parliament, she said she had called him for a meeting and hoped to resolve the issue. 
Replying to a question whether former Jharkhand Chief Minister Madhu Koda, embroiled in a multi-crore scam, could attend the Lok Sabha, the Speaker merely said "law would take its own course".
"I will see when any documents concerning him come to me," she said. PTI