Would not be bad if we fulfilled 50 pc promises: Kejriwal
New Delhi: Delhi Chief Minister Arvind Kejriwal today said it would not be bad if his government fulfilled about half the promises made before the polls, in five years.Addressing a gathering on the eve of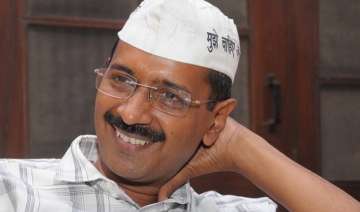 PTI
April 21, 2015 14:59 IST
New Delhi: Delhi Chief Minister Arvind Kejriwal today said it would not be bad if his government fulfilled about half the promises made before the polls, in five years.
Addressing a gathering on the eve of 'Civil Services Day', he also said that his government is trying try to evolve a transparent system of rewards and punishment in order to fix responsibility and create competition among officials to improve their efficiency.
"I have a great experience with bureaucrats in the last two months...I today confidently say that when the government was formed, there was nervousness whether they would be able to do or how much they would be able to do or not.  
"People have high expectations from us. Public, which praise us, also hurl shoes in five years. But, today I have confidence that within next five years, if we don't able to deliver 100 per cent promises, we will at least achieve 40 to 50 per cent promises which would not be bad," Kejriwal said.
He said in order to deliver good governance, there is need to create competition among bureaucrats to improve their work efficiency.
"There should be competition and accountability among bureaucrats and in view of this, we are trying to evolve transparent system of rewards and punishment in the government," he said.
Government has also decided to encourage bureaucrats by introducing incentive schemes for them.  "For instance, if any officer meets his fund targets and generates extra funds, he and his team will be rewarded with incentive. Besides officers, we will also involve market associations in this scheme. If any market association gives us extra tax collection. Out of extra tax collections, we will spend 10 per cent fund as per their demands," he said.  
The Chief Minister also sought partnership with officers to collectively deliver good governance in Delhi.  He said his aspiration from the bureaucracy is of a systemic change and though it has become a fashion to berate the bureaucracy for all ills, the root cause of main problems plaguing the country was bad politics.  Kejriwal also noted that there are a lot of good individuals in the bureaucracy, but despite that, governance has not improved.
Speaking at a panel discussion on 'Indian Civil Services - Challenges and Opportunities' here, Kejriwal said his government has also planned to use technology in various sectors on a large scale.
"In water, solid waste management, education, roads, sanitation and health sectors, we will soon use technology on a large scale," Kejriwal said.
The seminar was attended by noted lawyer and former Union law minister Ram Jethmalani, former Union cabinet secretary T S R Subramanian, former Union revenue secretary N K Singh and noted constitutional expert and senior lawyer Rajeev Dhawan.  It was presided over by the Delhi Chief Secretary K K Sharma and attended by former chief secretaries Rakesh Mehta, P K Tripathi and D M Spolia, among others.  Deputy Chief Minister Manish Sisodia said the government wants to work with good officers.
He urged the bureaucracy to reinvent itself for restoring its lost talent and said the ministers and bureaucrats have to learn to co-exist and he expected officers to give preference to public good over technicalities.
The Deputy Chief Minister said files and papers do not help in minimising the pain of the people, adding that bureaucracy has the capacity required to function and deliver, but found lack of courage and the ministers and bureaucrats will have to trust each other for providing honest delivery in the interests of the common man.
He also requested the bureaucracy to keep the interests of 'aam aadmi' in focus while deciding policies.  He said the bureaucracy needs to be captive to aspirations of the people and papers, saying that Delhi government is willing to change laws which come in the way of delivery for the people.