Yeddyurappa makes loyalist Shoba KJP working president
Bangalore: Even as speculation continues on former BJP leader B. S. Yeddyurappa's return to the party, he Friday elevated his staunch loyalist and former BJP minister Shoba Karandlaje as working president of the Karnataka Janata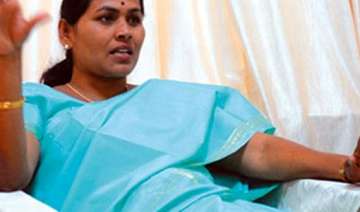 IANS
August 31, 2013 7:02 IST
Bangalore
: Even as speculation continues on former BJP leader B. S. Yeddyurappa's return to the party, he Friday elevated his staunch loyalist and former BJP minister Shoba Karandlaje as working president of the Karnataka Janata Party he heads.
Yeddyurappa, who quit Bharatiya Janata Party (BJP) in December to lead KJP, announced the appointment of Karandlaje, 46, after a party meeting here.
He told reporters that former BJP minister C. M. Udasi will be KJP's senior vice president.
Yeddyurappa, BJP's first chief minister in south India, maintained that he will not go back to his former party and will not merge KJP with any party.
He said KJP was ready for seat sharing with other parties, including the Congress, in the general elections due early next year.
However the speculation on his return to BJP has not died down as there is demand from a section of BJP Karnataka unit to take him back before the Lok Sabha elections as otherwise the party would suffer heavily.
The BJP had won 19 of the 28 seats in 2009 but fared poorly in the May 5 assembly elections losing power to the Congress.
It won only 40 seats in the 225-member assembly, which includes one nominated member, compared to 110 it had bagged in 2008.
A major reason for the poor show is attributed to Yeddyurappa walking out of the party to head KJP apart from corruption scandals that rocked the government when he headed it between 2008 and 2011.
Though KJP won only six seats, including that of Yeddyurappa, in the assembly polls, it garnered ten percent of the votes damaging the BJP.