Yet to decide whether to pursue defamation case: Kejriwal to HC
New Delhi: Delhi Chief Minister Arvind Kejriwal today told the Delhi High Court that he has not yet decided whether he will pursue his case against a trial court decision sending him to jail in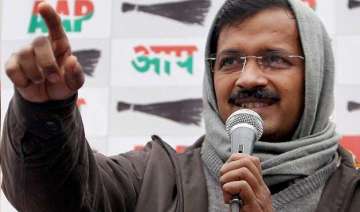 PTI
April 27, 2015 16:41 IST
New Delhi: Delhi Chief Minister Arvind Kejriwal today told the Delhi High Court that he has not yet decided whether he will pursue his case against a trial court decision sending him to jail in a defamation case filed by Union Minister Nitin Gadkari.
A bench of Justices Sanjiv Khanna and Ashutosh Kumar was informed by the counsel for Aam Aadmi Party's (AAP) convenor Kejriwal that advocate Prashant Bhushan is not representing him any more so he needs more time to decide on the issue.  
"Whether we will pursue the matter or not, has not been decided yet," Kejriwal's counsel said, adding that some other senior counsel will be engaged then only the Chief Minister will be able to inform the court.
Kejriwal's counsel, meanwhile, requested the court to adjourn the matter. The court has now fixed the matter for further consideration on May 26.
On April 17, the Supreme court had stayed Kejriwal's prosecution in two criminal defamation cases, including the one filed by Gadkari, and also sought a reply from the Centre on the CM's plea challenging constitutional validity of the penal provisions.
The submission by Kejriwal's counsel came in the backdrop of the court's February 23 query whether Kejriwal is still interested in pursuing his case.
"Are you still interested in pursuing the case? We think, now there is nothing left in it," the bench had said after the counsel for Kejriwal sought adjournment in the matter.  The bench had further said the petition was "infructuous" while noting that Kejriwal has already furnished his bail bond in the case.
The court's observations had come during the hearing of Kejriwal's plea whether it is correct to seek bail bonds and sureties from people who are summoned by courts on complaints filed in cases like that of criminal defamation.  
Kejriwal has challenged May 21 and 23 last year orders of a magisterial court remanding him in judicial custody for not furnishing a bail bond in the criminal defamation complaint filed by Gadkari, saying it was not mandatory and he should have been allowed to give a written undertaking instead.  Senior advocate Geeta Luthra and advocate Balendu Shekhar, appearing for Gadkari, had said that normally habeas corpus does not lie in the judicial order.
The court, however, had refused to say anything on the maintainability of the petition and had posted the matter for hearing today.