BCCI a spoilt brat, it unites both UPA and NDA: Kirti Azad
Former cricketer and suspended BJP lawmaker Kirti Azad lambasted the Board of Control for Cricket in India (BCCI) for not adhering to the recommendations suggested by the Lodha panel, dubbing the sports body as a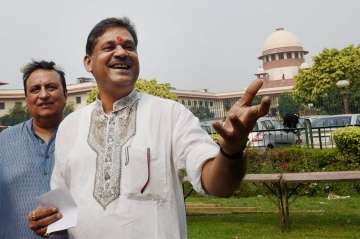 Source: PTI
India TV Sports Desk
Nagpur
December 05, 2016 11:05 IST
Former cricketer and suspended BJP lawmaker Kirti Azad lambasted the Board of Control for Cricket in India (BCCI) for not adhering to the recommendations suggested by the Lodha panel, dubbing the sports body as a spoilt brat.
"BCCI is like a spoiled brat obsessed with a toy that is cricket and unwilling to let it go," said Azad at a meet the press programme organised by Bankers Sports Club of Nagpur at a city hotel on Monday.
"Why are they opposing Lodha committee recommendations?" questioned Azad.
The high powered Lodha committee was appointed by the Supreme Court for overhaul of Indian cricket.
"When Lodha Committee said that enough is enough and the game can't be run like this, this spoilt child, after his toys have been taken away from him, is crying," Azad said.
Azad took a further dig stating that there are no friends or foe in the BCCI, but it is the money, which is keeping the members together.
"Everywhere there's a ruling party or group and the opposition, except for the BCCI. It's a united alliance - united in corruption and alliances for position. It's a classic mix of UPA and NDA. The board president was once with UPA (Sharad Pawar) and now is with NDA (Anurag Thakur). Jyotiraditya Scindia lost the BCCI vice-president post and became a part of BCCI's most powerful finance committee. Rajiv Shukla lost the post of treasurer but became the IPL chairman. Nobody is friend or foe in BCCI. The money has kept them together," Azad has earlier told Times of India.
Referring to the IPL mess, Azad said, it was not proper to single out Lalit Modi for the entire set of problems.
"All members of the then 2009 Indian Premier League (IPL) governing council are equally responsible for the mess created in the league and singling out Lalit Modi is improper," said the former cricketer.
"Why didn't anyone (members of the governing council) show any dissent then?" asked Azad.
On shifting of IPL games to South Africa and the mess that followed, Azad said, office-bearers of then BCCI at that time should have been aware of the law of the land. They unite for corruption and align for position.
"Cricket is popular because of players and not because of administrators and why are the officials then clinging to power," Azad said.
On the issue of age and one state one vote, Azad said, that none of the north-eastern states and Bihar are having any votes or cricket development and the BCCI officials are silent for so long.
DDCA is habitual offender and used, misused and abused government departments for their benefits and were illegal squatters of its premises, Azad alleged.
Penalty should be levied for sub-standard wickets prepared, said Azad while replying on the neutral venue experiment by BCCI.
Later in the evening Azad was the chief guest at the function to mark golden jubilee of the club.
PTI inputs