DRS row: Handscomb admits fault, says he told Smith to check with Australian dug-out
Handscomb conceded that he did in fact suggest skipper Steve Smith to seek inputs from the dressing room after he was given leg-before off Umesh Yadav on the fourth day of the second Test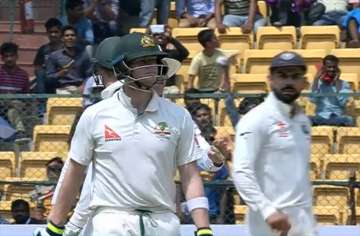 Source: PTI
India TV Sports Desk
New Delhi
March 08, 2017 11:29 IST
A day after Indian skipper Virat Kohli charged the visiting Australian team of seeking inputs from the dressing room before seeking DRS referrals, Australia batsman Peter Handscomb today took to Twitter to admit his fault.
Handscomb conceded that he did in fact suggest skipper Steve Smith to seek inputs from the dressing room after he was given leg-before off Umesh Yadav on the fourth day of the second Test, which India won by 75 runs. 
Late last night, Handscomb took to the microblogging site to take the blame for the entire row and defend his captain. Handscombe said he was unaware of the rules pertaining to DRS referral. 
"I referred smudga to look at the box... my fault and was unaware of the rule. Shouldn't take anything away from what was an amazing game!," Handscomb wrote on his official twitter page. 
I referred smudga to look at the box... my fault and was unaware of the rule. Shouldn't take anything away from what was an amazing game!

— Peter Handscomb (@phandscomb54) March 7, 2017
Smith's action of looking back towards the dressing room was objected to by Virat Kohli – both on field and after the match. Addressing reporters in the post-match press conference, Kohli said that he would "never do something like that on cricket field." 
Rules pertaining to the usage of DRS clearly state that "signals from dressing room must not be given".
"We have been inconsistent with the DRS but we take our decisions on the field, we don't ask for confirmation from the dressing room. I have seen it twice while batting. I have seen their players looking upstairs (dressing room). I told the umpires, this had to stop. I don't want to mention the word but it falls in that bracket. I would never do something like that on the cricket field," Kohli said, just stopping short of charging the visitors with 'cheating'.
Smith's act has stirred up quite a row within the cricketing fraternity with many Indian and Australian players expressing concern over Smith's actions.
"I want to find out from the Australian team if they're using the DRS in that way, if they are then that is unacceptable," PTI quoted former Australia captain Michael Clarke as saying.
"My concern and my worry is that when you look at the footage of what happened with Steve Smith, Peter Handscombe actually suggests to Steve Smith to turn around and have a look at the support staff. 
"If it is only a one-off, I don't think that would have happened. The fact that Peter Handscomb is even thinking about telling the Australian captain to turn around and look to the support staff, I've got my concerns," he added.
Former India skipper Ravi Shastri also said that the move by Smith was in violation of rules and he could be punished for it.
"If evidence is found against Smith that he violated the rules, he could even be banned," Shastri told India TV.
Former Indian skippers Sunil Gavaskar and Sourav Ganguly were also critical of Smith's actions. 
"I don't think that was in the spirit of the game. We have to see what the ICC and match referee do. I have not seen other earlier incidents but I saw it clearly when Smith did that today, he was clearly gesturing to the dressing room," PTI quoted Gavaskar as saying.
Ganguly also demanded action from authorities. "The umpires and match referee must ensure this doesn't happen in future," Ganguly said.
India made a strong comeback in the series on the back of some great performances by R Ashwin. The Australian innings collapsed at 112 with the visitors losing the second Test match to India by 75 runs. India and Australia are now levelled at 1-1 in the four-match series.