ICC Champions Trophy 2017: Have a Look at the Points Table
ICC Champions Trophy 2017 Points Table: Have a Look at Teams Performance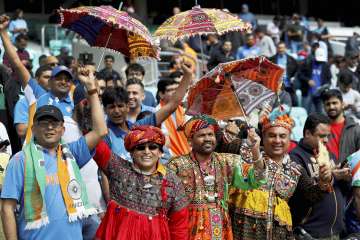 Source: PTI
Aditya Chauhan
New Delhi
June 15, 2017 15:32 IST
The group stages are over in the ICC Champions Trophy 2017 and we have our semi-finalists who will look to put their best foot forward to move an inch closer to the coveted trophy. Hosts England and Bangladesh have made it to the next round from Group A while from Group B India and Pakistan qualified for the last four.  As the event progresses to its business end, we can expect some fireworks from all the teams as the race for the title intensifies. England is the only undefeated team in the tournament, they have defeated Bangladesh, New Zealand and Australia in the league stages to become the first team to book a semis berth. Bangladesh can consider them lucky to advance to the semis with three points in the bag. They beat New Zealand in a crucial match to book semi-final berth for the first time in the Champions Trophy event.
Interestingly, the weather also played in the early stages of Champions Trophy 2017. Steve Smith led Australian team can consider themselves unlucky as two of their matches against New Zealand and Bangladesh were washed-out without any result. And, they lost their final group match against England.
Whereas, in Group B, the semi-finalists were decided in the final league match where Pakistan defeated Sri Lanka in a thrilling contest to clinch the second spot alongside arch-rivals India. In case, if it rains and both the matches are abandoned without any result then England and India, based on their group stage position and run-rate will qualify for the finals.
In the first semi-final, England vs Pakistan at Sophia Gardens, Cardiff today. Whereas, in the second Bangladesh will face defending champions India at Edgbaston on Thursday. The final of the ICC Champions Trophy 2017 will be played at The Oval, London on 18th June.
ICC Champions Trophy 2017 Point Table:
| GROUP A |   |   |   |   |   |
| --- | --- | --- | --- | --- | --- |
| Team | Matches | Won | Lost | Points | NRR |
| England | 3 | 3 | 0 | 6 | +1.04 |
| Bangladesh | 3 | 1 | 1 | 3 | +0.00 |
| Australia | 3 | 0 | 1 | 2 | -0.99 |
| New Zealand | 3 | 0 | 2 | 1 | -1.05 |
| GROUP B |   |   |   |   |   |
| --- | --- | --- | --- | --- | --- |
| Team | Matches | Won | Lost | Points | NRR |
| India | 3 | 2 | 1 | 4 | +1.37 |
| Pakistan | 3 | 2 | 1 | 4 | -0.68 |
| South Africa | 3 | 1 | 2 | 2 | +0.16 |
| Sri Lanka | 3 | 1 | 2 | 2 | -1.54 |