ICC Champions Trophy 2017: Sohail takes a U-turn on match-fixing allegations
After facing widespread criticism for his controversial remarks on Pakistan team and skipper Sarfraz Ahmed, former Pakistan opener Aamer Sohail backtracks on his match-fixing comments.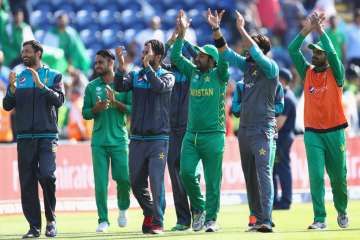 Source: GETTY IMAGES
IANS
Lahore
June 16, 2017 19:02 IST
Former star batsman Aamer Sohail has backtracked on his comments after his claim that the Pakistan team fixed matches at the ongoing Champions Trophy cricket tournament drew widespread criticism across the country.
The former national team captain had made the claim after Pakistan defeated Sri Lanka in their last match in Group B on June 12 to qualify for the semi-finals of the Champions Trophy.
But on Friday, Sohail claimed that he never accused the national team of fixing matches and was only criticising Pakistan captain Sarfraz Ahmed for not dedicating the win over Sri Lanka to legendary batsman Javed Miandad, whose birthday fell on that day.
"Sarfraz was asked after the Sri Lanka match whether he wanted to dedicate the win to Miandad. But I heard reports that he refused to do so and said Miandad criticises the team too much. 
"What I meant was that Sarfraz has become captain only recently and Miandad is a very big name in Pakistan cricket. He should not have said such things. If Miandad says something, it is only for the improvement of Pakistan cricket," Sohail told Pakistani channel Samaa TV.
"The other thing I said was that the facilitators of the win cannot be named; however I said nothing about match-fixing or any other foul play -- my statement was misunderstood.
"If Pakistan is winning, then why bring up references to match fixing? I don't know what agenda people who make such allegations are following," he added.
The former head of the Pakistan Cricket Board's (PCB) selection committee also asserted that he always praised Sarfraz's talent and wanted him to achieve more success as the Pakistan captain.
"I never said that Sarfraz follows someone else's agenda. I alone supported Sarfraz since 2015 and recommended him for taking on the captaincy of the Pakistan team. 
"What I meant that day on your programme was that people should stop confusing Sarfraz otherwise we will see a good talent go to waste," Sohail insisted.
Pakistan had started their campaign on a disastrous note with a 124-run defeat to arch-rivals India, but consecutive wins over formidable South Africa and Sri Lanka in the rest of their matches in Group B saw them qualify for the semi-finals.
England, the only undefeated team in the tournament until that point, were among the favourites to reach the final, but Pakistan dominated with both the bat and ball to outclass the hosts and set up a title clash with India.
However, Sohail's comments after the win over Sri Lanka had angered many Pakistani fans.
"Sarfraz needs to be told that you have not done anything great. Someone has helped you win the game. There is no reason for you (Sarfraz) to be so happy. We all know what happens behind the scenes. Don't wish to get into the details on who won them the games," Sohail said during a programme on a Pakistani channel. 
"If asked, I will say that the prayers of the fans and God has won them the games. They have been brought to the final due to external factors and not based on on-field performance. The boys now need to be level-headed and focus on playing good cricket," the former Pakistan captain added.
Sohail was himself at the heart of the match-fixing scandal that rocked Pakistan cricket in the late 1990s. 
One of the key players during Pakistan's successful campaign at the 1992 World Cup, Sohail's most infamous moment on the cricket field was at the 1996 World Cup when he got into an altercation with India pacer Venkatesh Prasad before being bowled off the very next delivery.