Virat Kohli, true blue Delhi munda, celebrates his goal with Bhangra, watch video
The India captain was ecstatic after scoring the goal against Abhishek Bachchan-led All Stars FC, he performed Bhangra on the field as soon as the DJ played out a Punjabi number.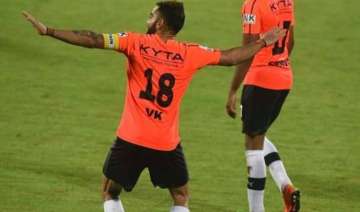 Source: KOHLI FC/TWITTER
Written by: Aditya Chauhan
New Delhi
October 16, 2017 21:37 IST
Known for his immaculate batting skills, Virat Kohli is also a pro when it comes to shaking a leg be it at a party or on a football field. On Sunday, the Indian skipper once again showed off his swift 'Bhangra moves' after scoring a goal in the Celebrity Clasico between All Hearts FC and All Stars FC. After finally managing to find the back of the net, Kohli celebrated his goal like a typical Delhi boy and did some Bhangra on the field as soon as the DJ played out a Punjabi number. 
The 28-year old Kohli is one of the fittest cricketers in the world, he had earlier expressed his liking for the beautiful game and had mentioned that playing football with teammates during the practice session is one of the best bonding activities of Indian cricketers.
However, the real star of the match was Mahendra Singh Dhoni who displayed his fine football skills and left the sizeable crowd gathered at the Andheri Sports Complex ecstatic. Dhoni scored two goals for Kohli-led All Hearts side to register a massive victory by 7-3 against Abhishek Bachchan's All Stars team. 
Dhoni curled one in ala David Beckham style during the charity football match, whereas his second goal was a perfectly taken free-kick which left everyone awestruck as it easily finds the opposition wall. For his performance, the former India captain was fittingly awarded 'Man of the match'. Former India hockey captain PR Sreejesh and French Open mixed doubles champion Rohan Bopanna also played for Kohli's team.
Team India will next take on New Zealand in three-match ODI series, starting from October 22 in Mumbai. It would be followed by a three-match T20I series.