Afridi: History of Ind-Pak clashes will change in WC 2015
New Delhi: Defying the past history of India and Pakistan clash in the World Cup that creates mass hysteria in the sub continent, Pakistan's Shahid Afridi has predicted  this time the mega cricket event will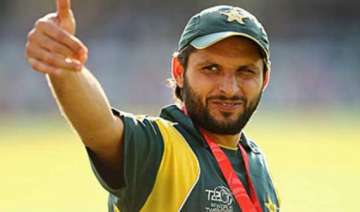 India TV Sports Desk
January 08, 2015 4:58 IST
New Delhi: Defying the past history of India and Pakistan clash in the World Cup that creates mass hysteria in the sub continent, Pakistan's Shahid Afridi has predicted  this time the mega cricket event will change the course of history of  India vs Pakistan world Cup clash.
Pakistna have never beaten India in the World Cup so far.
Afridi said "I think it's enough now that India have been unbeaten against us in World Cup and history of Pak-India matches should change in 2015.
"We will change the history in the first match against India," Shahid said.
Arch rivals, India-Pakistan will face each other in 4th match of tournament on February 15 at Adelaide Oval, Australia.
In the past India-Pakistan have clashed  5 times (1992, 1996, 1999, 2003 and 2011) in world Cups, but ended-up losing all of them.
Shahid is confident that the Pakistan team can win the 2015 World Cup.
Afridi said, "In my view Australia will be a very strong side in their backyard while New Zealand will be a big threat as well because if they can beat Pakistan like they did in the UAE, then they can trouble anyone in home conditions. Apart from them, Pakistan and South Africa will also be favorites to win the World Cup."
Pakistan had won the World Cup in 1992 under the leadership of Imran Khan when it was held in Australia.
Afridi echoed the confidence of his team repeating the feat once again in the same country.