Anushka Sharma can't stay with Virat Kohli during World Cup
New Delhi: The Board of Control for Cricket in India (BCCI) may not allow Team India players to stay with their wives & girlfriends (WAGS) during the World Cup tournament, starting from February 14. However,BCCI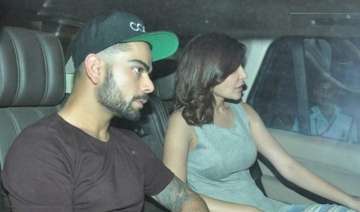 India TV News Desk
January 18, 2015 14:05 IST
New Delhi: The Board of Control for Cricket in India (BCCI) may not allow Team India players to stay with their wives & girlfriends (WAGS) during the World Cup tournament, starting from February 14. However,BCCI have not made a formal announcement yet.So this time Valentine's Day will not be strewed with roses and heart-shaped balloons.
That also means that the most talked about twosome of Team India Virat Kohli and Anushka Sharma will not be able to share the hotel room where Team India will be accommodated. Hence, the two will have to bear the intense 44-day separation where India will end up playing nine matches should they reach the final on March 29.
The ruling by the BCCI is nothing new. The board is sticking to the previous World Cup dos and don'ts. "This rule of not allowing wives and girlfriends was always there in the past. In a big tournament like the World Cup, the cricketers should stay away from distractions (read wives & girlfriends)," a top BCCI official said.
During last summer, when India toured England, Virat Kohli faced a lot of criticism for his failure with the bat. But India's ODI vice captain bounced back strongly in the just concluded Test series against Australia down under.  Blowing a kiss to Anushka Sharma who watched him playing from the stands became a routine affair.