IPL 8: Ashish Nehra bowls CSK to victory against RCB
Bengaluru: Looking every inch a thoroughbred team, Chennai Super Kings comfortably won the southern derby by defeating Royal Challengers Bangalore by 27 runs here on Wednesday to record their fourth win in five matches, while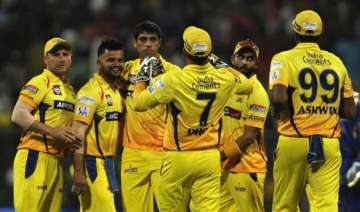 IANS
April 23, 2015 8:36 IST
Bengaluru: Looking every inch a thoroughbred team, Chennai Super Kings comfortably won the southern derby by defeating Royal Challengers Bangalore by 27 runs here on Wednesday to record their fourth win in five matches, while the hosts suffered their third loss in four outings.
Former India seamer Ashish Nehra who will turn 36 next week, came up with double strikes in his second and fourth overs for figures of 4 for 10 as RCB, despite a fighting knock by skipper Virat Kohli (51, 42b, 4x4, 2x6), managed 154 for eight, chasing Super Kings' impressive total of 181 for eight.
Much of home team's hopes were shattered early in their innings when Nehra picked up two wickets in his second over and RCB could not recover from these early blows. Nehra returned for his second spell and grabbed two more wickets to effectively end RCB's challenge.
The Super Kings innings was built around opener Dwayne Smith (39, 29b, 3x4, 4x6) and Suresh Raina (62, 32b, 4x4, 6x6), who provided momentum while an 18-ball 33 not out by Faf du Plessis at the tail-end saw the visitors post a sizeable total.
Leg-spinner Yuzvendra Chahal was the most impressive of RCB bowlers as he claimed 3 for 28 while left-arm spinner Iqbal Abdulla came away with two for 36 when the Super Kings batsmen were attempting ambitious shots.
The start was delayed due to a brief spell of drizzle while lightning and thunder before the toss added to the anxiety. Small wonder then that Virat Kohli opted to bowl first on winning the toss, fearing rain interruption leading to Duckworth-Lewis coming into play.
RCB decided to leave out Chris Gayle who has not been in the best of form this season and can be a liability in fielding. Also, with Aussie fast bowler Mitchell Starc available after recovering from a knee injury, the change was quite logical and understandable.
The RCB chase all but came to a standstill when Nehra removed both openers Manvinder Bisla (17) and Rilee Rossouw (14) in his second over in the course of a brilliant spell.
Bisla was out to a sensational one-handed catch by du Plessis who back-pedalled in the deep, leaned back to pouch the ball even as he landed heavily on his right shoulder while Rossouw was cleaned up, playing down the wrong line.
After Dinesh Karthik (10) and Kohli put together a small partnership for the third wicket, the former departed with Dwayne Bravo diving forward to accept the catch.
AB de Villiers walked in and was on to it straightaway, but was unfortunately run out following a misunderstanding with Kohli as RCB slid to 85 for four in the 12th over and with the South African's dismissal, the home team's hopes ebbed away.
Earlier, Starc, player of the tournament at the 2015 World Cup, weighed in with tight two overs at the start much to RCB's delight that increased manifold in the second over when Chahal claimed first of his three victims in Brendon McCullum (4) who cut straight to Rilee Rossouw at point.
The Super Kings innings really took off in the eighth over as Smith smashed South African all-rounder David Wiese for two sixes and a four, but the Barbadian batsman departed in the next, edging seamer Harshal Patel to wicket-keeper Karthik.
Thereafter, it was the Raina show as he cut loose against the RCB bowlers, especially Chahal whom he belted for three consecutive sixes before holing out attempting another big hit off the next ball.
Raina's departure triggered a mini collapse as Dhoni (13) and Ravindra Jadeja (8) were also dismissed in quick succession, but du Plessis played a smart knock to take Super Kings past the 180-run mark.
SCORE-BOARD
Chennai Super Kings Innings: Dwayne Smith c Karthik b Patel 39 (29b, 3x4, 3x6); Brendon McCullum c Rossouw b Chahal 04 (6b, 1x4); Suresh Raina c Rossouw b Chahal 62 (32b, 4x4, 6x6); Mahendra Singh Dhoni c de Villiers b Chahal 13 (13b, 2x4); Ravindra Jadeja c Kohli b Abdulla 08 (8b, 1x4); Faf du Plessis (not out) 33 (18b, 4x4, 1x6); Dwayne Bravo c de Villiers b Abdulla 05 (4b, 1x4); Ravichandran Ashwin c Bisla b Wiese 05 (3b, 1x4); Mohit Sharma b Starc 02 (6b); Ashish Nehra (not out) 0 (1b); Extras (b-1, lb-6, w-3): 10. Total (for 8 wkts, 20 overs): 181.
Fall of wickets: 1-12 (McCullum, 1.5); 2-70 (Smith, 8.5); 3-124 (Raina, 12.5); 4-132 (Dhoni, 14.1); 5-135 (Jadeja, 15.2); 6-156 (Bravo,17.3); 7-168 (Ashwin, 18.2); 8-177 (Sharma, 19.4).
Bowling: Mitchell Starc 4-0-24-1; Yuzvendra Chahal 4-0-40-3; Harshal Patel 4-0-28-1; David Wiese 4-0-46-1 (1w); Iqbal Abdhulla 4-0-36-2 (2w).
Royal Challengers Bangalore Innings: Manvinder Bisla c du Plessis b Nehra 17 (14b, 3x4); Rilee Rossouw b Nehra 14 (9b, 1x4, 1x6); Virat Kohli c Smith b Nehra 51 (42b, 4x4, 2x6); Dinesh Karthik c Bravo b Pandey 10 (11b, 1x4); AB de Villiers (run out - Smith/Dhoni) 14 (10b, 2x6); Sarfaraz Khan c Sharma b Jadeja 11 (7b, 1x6); David Wiese c Smith b Bravo 22; Harshal Patel c Bravo b Nehra 0 (1b); Mitchell Starc (not out) 9 (6b, 1x4). Extras (lb-5, w-1): 06. Total (for 8 wkts, 20 overs): 154.
Fall of wickets: 1-31 (Bisla, 3.3); 2-33 (Rossouw, 3.6); 3-61 (Karthik, 8.2); 4-85 (de Villiers, 11.3); 5-97 (Khan, 13.3); 6-123 (Kohli, 16.1); 7-123 (Patel, 16.2); 8-154 (Wiese, 19.6).
Bowling: Ishwar Pandey 4-0-21-1; Ashish Nehra 4-0-10-4; Mohit Sharma 4-0-39-0; Ravichandran Ashwin 1-0-17-0 (1w); Ravindra Jadeja 4-0-37-1; Dwayne Bravo 3-0-25-1.