Ashwin Says India Didn't Have Luck But Admits Easy Runs Given
Adelaide, Jan 24: India were once again tormented by Michael Clarke and Ricky Ponting but off-spinner R Ashwin insisted there was no psychological block on his team's bowlers even though the tourists just didn't have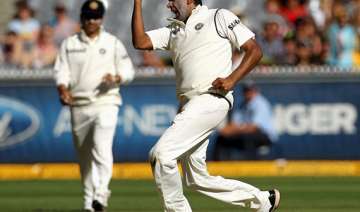 PTI
January 24, 2012 16:33 IST
Adelaide, Jan 24: India were once again tormented by Michael Clarke and Ricky Ponting but off-spinner R Ashwin insisted there was no psychological block on his team's bowlers even though the tourists just didn't have the luck on the opening day of the fourth Test against Australia here.

Australia ended the day 335/3, managing to recover from a shaky start, as India's desperate hope of at least one win in the four-match series began to fizzle at the very outset. 

Australia have already clinched the series by winning the previous three matches.

Both Clarke (140) and Ponting (137) are unbeaten having shared a 251-run fourth-wicket stand. The two had similarly batted India out of the match in Sydney with Clarke going on to make an unbeaten triple hundred.

Asked if the two have managed to psyche the Indian bowlers, Ashwin said it was not the case.

"I don't think as a bowling unit we have a psychological block towards it. It has happened in two Tests, in Sydney and in Adelaide here. Probably we need to take a couple of early wickets tomorrow," said Ashwin, who picked up two wickets in the first session.

Ashwin believed the day slipped away from India's hands after they failed to keep lid on scoring in the second session.

"We were telling each other that we really wanted to be tight in the second session. It was very crucial. That's where we shelled the game a little bit. We gave quite a few easy runs to them and they just took off from there. After that it was quite easy to carry on", he said.