Aussie media blasts home team for collapse
Sydney: Australia's media on Tuesday labelled as "humiliating" the dramatic batting collapse that saw England taking unsailable 3-0  lead in the on going Ashes series. Set 299 to win on Monday's fourth day at Chester-le-Street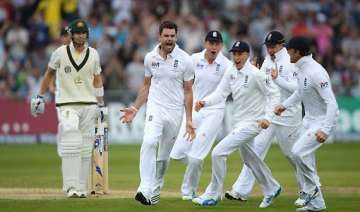 India TV Sports Desk
August 13, 2013 19:03 IST
Sydney:
Australia's media on Tuesday labelled as "humiliating" the dramatic batting collapse that saw England taking unsailable 3-0  lead in the on going Ashes series. Set 299 to win on Monday's fourth day at Chester-le-Street in Durham, Australia were well-placed at 168 for two but crashed to 224 all out.
Lanky pacer Stuart Broad ripped through  the middle order taking six wickets for 50.
"No-one does shameful collapses quite like Australia and Michael Clarke's side conjured up one to remember, or rather to forget, at Durham to hand the Ashes series to England," said The Australian's cricket writer Wayne Smith.
"Not since it was beaten in 1953, 1955 and 1956 has Australia lost three Ashes series in succession but rarely, with so much on the line and with victory so clearly in sight, has a team succumbed so meekly."
"Australia had already conceded the Ashes but a humiliating batting collapse at Durham has rubbed salt into their wounds," said the Sydney Morning Herald's Chris Barrett.
Australia are without a Test win since January and if they again fail to win at Oval, Australia will drop to fifth in the world rankings behind Pakistan. The final test starts fromAugust 21.
Under the headline: "Choking: It's Australian for cricket," the Sydney Daily Telegraph said the defeat was hard to stomach after a sterling effort from the Australian bowlers, led by Ryan Harris.