Australia failed to pay tribute to Phillip by continuing sledging: Jonathan Agnew
BBC cricket correspondent Jonathan Agnew says the Australian cricket team have failed to live up to their intentions to pay tribute to Phillip Hughes by continuing their aggressive sledging on the field against India.The ex-English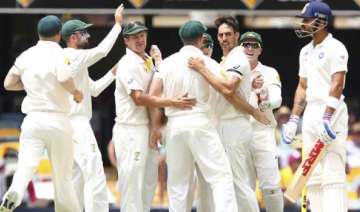 India TV Sports Desk
January 13, 2015 13:43 IST
BBC cricket correspondent Jonathan Agnew says the Australian cricket team have failed to live up to their intentions to pay tribute to Phillip Hughes by continuing their aggressive sledging on the field against India.
The ex-English bowler said Australia owes it to Hughes, who died after being struck by a bouncer during a Sheffield Shield match in November, to clean-up their on field behaviour.
"Michael Clarke said very clearly that Hughes' memory would run through the team, and would be in the way they would play their cricket," Agnew said.
"Well, I haven't seen evidence of that. I really hoped that out of this tragedy might have come some good.
"But the players haven't behaved any better, and I think that's a real disappointment."