BAN vs PAK: Bangladesh looks for test breakthrough against Pakistan
KHULNA, Bangladesh:   Emboldened by its whitewash of Pakistan in the limited-overs games, Bangladesh could be ready to make its big breakthrough at test level when a two-match series against the same opponents begins Tuesday.Bangladesh beat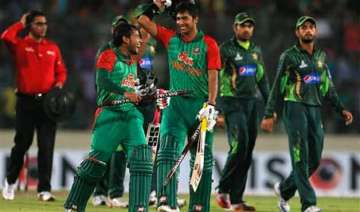 India TV News Desk
April 27, 2015 22:08 IST
KHULNA, Bangladesh:   Emboldened by its whitewash of Pakistan in the limited-overs games, Bangladesh could be ready to make its big breakthrough at test level when a two-match series against the same opponents begins Tuesday.
Bangladesh beat Pakistan 3-0 in the one-day series and followed it up by winning a one-off Twenty20 international, ramping up expectation levels in the country.
Now it's time to break new ground in test cricket with a first win over a competitive top-tier opponent.
"I think the high expectation will bring the best out of the players. They are confident and raring to go," Bangladesh test captain Mushfiqur Rahim said. "If we could play our best cricket, like the ODI and Twenty20, I believe we'll emerge as the winner."
Bangladesh has lost all eight tests played against Pakistan and has won just seven of 88 tests overall. Five of those were against Zimbabwe and two were against a West Indies lineup that was depleted after their frontline players opted out of a series in 2009 over a payment fiasco.
"You can call it challenge rather than pressure," Mushfiqur said. "We will try to continue how we played in the ODIs and T20s but test cricket isn't going to be easy. They are the No. 4 team in the world, so it becomes a different challenge for us.
"They have included some experienced players."
Pakistan is bolstered by the presence of two seasoned players, Younis Khan and Misbah-ul-Haq, who have been in good form in this format. In the last five tests, against Australia and New Zealand, Younis had four centuries while Misbah had three.