Banned Pakistan bowler Mohammad Amir all set for a comeback
New Delhi: 22-year-old discarded Pakistani fast bowler Mohammad Amir, who was one of the most promising bowlers of his generation, was banned for 5 years after getting involved in the 2010 betting scam is set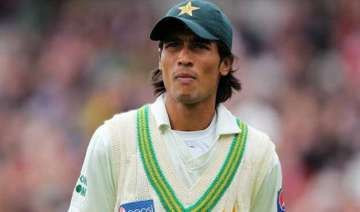 India TV Sports Desk
January 24, 2015 10:47 IST
New Delhi: 22-year-old discarded Pakistani fast bowler Mohammad Amir, who was one of the most promising bowlers of his generation, was banned for 5 years after getting involved in the 2010 betting scam is set to return to the domestic season next month, according to reports.
According to a recent amendment made by the ICC review committee to its anti-corruption code, a banned player is "permitted to be involved in domestic matches prior to the end of his ban period".
Amir's period of ban ends in August 2015, but the decision of his comeback will be taken by the ICC next week.
A Pakistan Cricket Board (PCB) spokesman said: "It is most likely that Amir will get clearance to play domestic cricket."
Amir's best possible chance of playing competitive cricket would be in the Super Eight T20 Cup in Pakistan after the World Cup, as the domestic season is about to finish and it begins in October.
He was the youngest player to take 50 wickets in Test Cricket, against England at Trent Bridge in 2010
Amir was banned for five years after he admitted that he had bowled no-balls in a Test match against England at Lord's in 2010. After being found guilty, Amir opted not to appeal against the ban, choosing to serve the jail term instead and also attending the rehabilitation program by the ICC in the Queen's Counsel in England.
One of the three accused - Salman Butt, Mohammad Asif and the fast bowler, it was only him who had the most sympathy for having innocently entered a way of crime without realizing the consequences of it.
In the last four years, Amir has completed an Anti Corruption and Security Unit (ACSU) education program with PCB, he showed a high degree of regret and also disclosed the information he knew to the PCB as well as the anti-corruption units