It's time BCCI is brought under RTI ambit: Bishen Singh Bedi
New Delhi: "Deeply hurt" by Supreme Court's intervention in deciding the fate of BCCI president-in-exile N Srinivasan, former India captain Bishen Singh Bedi today said it is time the "cricket board is brought under the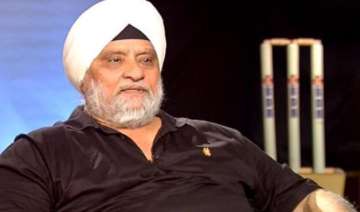 PTI
January 22, 2015 20:05 IST
New Delhi: "Deeply hurt" by Supreme Court's intervention in deciding the fate of BCCI president-in-exile N Srinivasan, former India captain Bishen Singh Bedi today said it is time the "cricket board is brought under the RTI ambit".
In a setback to Srinivasan, the Apex Court today barred him from contesting any BCCI election on grounds of conflict of interest but Bedi believes that the verdict is not a moment to rejoice but a day of sadness for Indian cricket.
"It's not a moment to rejoice. There is nothing to be happy about the judgment, rather I am deeply saddened by the turn of events. Not for anybody but for the game that I have loved and lived all through. This is the tragedy of Indian cricket that Supreme Court had to intervene to settle a cricket dispute. And you don't feel happy about any tragedy," the legendary spinner told PTI.
"I believe that this is the right time to bring BCCI under the RTI (Right to Information Act) ambit. The national as well as all the state units should fall under RTI. What's happening in Haryana, Jammu and Kashmir, Delhi, Punjab is an outcome of the independent functioning of the cricket board," he added.
The SC has also set up a judges committee under a former Chief Justice of India to decide on the punishment in the IPL scam that can threaten the future of Chennai Super Kings (CSK) and Rajasthan Royals (RR). Bedi solely blames BCCI for the mess.
"The BCCI itself is responsible for the mess that has happened. My point is that why did the cricket board make the matter so big that it had to be taken to the Supreme Court. That itself was cricket's loss. I accept that Srinivasan was the ringleader but what about the other cronies, who were supporting the boss, are equally responsible for the happenings," he said.
"People have become so stubborn that they do not want to leave their post or power. I am amazed how our national character has stooped to such a level that we are sticking to our wrongs. And it's all about money. I always believe that money is the bane of all problems, either the lack of it or excess of it," he added.