Border says Australia looking dangerous again
Melbourne, Australia, Aug 7:  Australia has "turned a corner" and would have won the third Ashes test if not for the weather, former test captain and selector Allan Border said.England retained the Ashes when the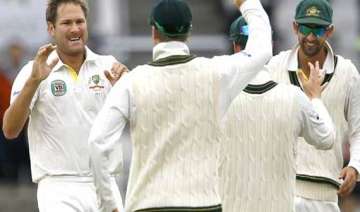 India TV News Desk
August 07, 2013 12:02 IST
Melbourne, Australia, Aug 7: 
Australia has "turned a corner" and would have won the third Ashes test if not for the weather, former test captain and selector Allan Border said.
England retained the Ashes when the third test ended in a draw Monday after bad weather halted play at Old Trafford, with Australia in a commanding position. The Australians narrowly lost the first test by 14 runs before a demoralizing 347-run defeat in the second test.
With two matches left to play in the current series, and the return series starting Down Under in November, Border said in a members-only section of the Cricket Australia's website that England has reason to be worried.
"The way this side is going over the next few months, look out. Australia has the momentum," Border said.
Border led Australia out of its mid-1980s slump to win the 1989 Ashes and begin 16 years of domination over England.
Clarke's side has been mired in a similar slump and went into the third test at Manchester on a run of six straight test losses.
"There's no doubt we were going to win the third test before the rain arrived," Border said. "The Poms were playing catch-up cricket from day one, going slow with over rates and doing everything they could to negate our chances of winning. At the end of the day rain saved England—it's as simple as that."
Border said Australia will gain confidence from its latest effort and "keep the momentum rolling into the last two tests."
"In just over 100 days' time, our home Ashes series starts and I wouldn't be surprised if we do really well in these last two games and continue to show that fight before the next series."