Calm Saha Feels No Pressure
Adelaide, Jan 20: Unfazed by the sudden spotlight on him, India's reserve wicketkeeper Wriddhiman Saha today said he is not intimidated by the prospect of having to fill in for Mahendra Singh Dhoni behind the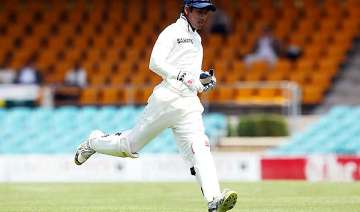 PTI
January 20, 2012 12:12 IST
Adelaide, Jan 20: Unfazed by the sudden spotlight on him, India's reserve wicketkeeper Wriddhiman Saha today said he is not intimidated by the prospect of having to fill in for Mahendra Singh Dhoni behind the stumps in the fourth and final Test against Australia starting here on January 24.

"I will play ball by ball. It doesn't worry me what has happened or what could happen," said Saha, who will play only his second Test match next week.

Saha's moment has come because of a ban on regular keeper and skipper Dhoni for India's slow over rate during the third Test in Perth last week.

Saha's first Test had come against South Africa in 2010 at Nagpur when Rohit Sharma, at the last minute, cried off due to an injury. The wicketkeeper on that occasion played purely as a batsman and made 36 runs in one of the two innings.

Saha is mindful of the bounce inherent in Australian pitches but believes his previous experience of the country would now be useful to him.

"I had come here with the Emerging Players' team and it (bounce) wasn't any problem. I know what it takes to keep here," said Saha.

Saha stressed that he never plays under pressure in any given match.

"Be it domestic, Ranji, Duleep or even club cricket, I have taught myself never to play under any pressure. Here too I would look to play my normal way."

Saha has been the part of a dressing room which has faced withering defeats in the last few weeks but the young wicket-keeper avers the atmosphere couldn't be better.