Clarke Sounds Pace Warning For India At Perth
Sydney, Jan 6: Ecstatic after taking an unbeatable 2-0 lead over India, Australian cricket captain Michael Clarke today said he might field an all-pace attack in the third Test to bounce the visitors out of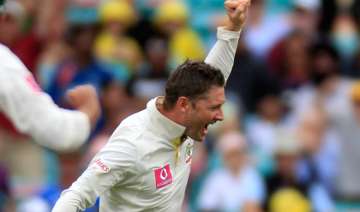 PTI
January 06, 2012 18:45 IST
Sydney, Jan 6: Ecstatic after taking an unbeatable 2-0 lead over India, Australian cricket captain Michael Clarke today said he might field an all-pace attack in the third Test to bounce the visitors out of the series at the dreaded Perth track.

Australia have beaten India by 122 runs and an innings and 68 runs in the first two Tests to go 2-0 up in the four-match series.

Clarke was already looking forward to the third Test to be played at what is considered the world's fastest pitch— the WACA ground in Perth.

"We need to assess conditions. Four fast bowlers for Perth are possible. I hope the wicket is similar to last summer with pace and bounce and some sideways movement. If that's the case that's an option (to go with four fast bowlers) there," Clarke said at the post-match press conference here.

"It's not been a cakewalk. We have played hard fought Test cricket. It's against a number two team with a lot of great players. We are really happy with the first two (Tests).  There's a long way to go. "The series is still not won. We really want to win in Perth."

Analysing the team's performance so far, Clarke put it down to the pressure of dot balls and maidens which is causing the Indian batsmen to fail in the present series.

"We are able to build pressure, we are bowling a lot of dots and maidens and that's what is taking wickets. Against good players, no very good players, you have to build up pressure as an attack," stated Clarke.

"We have wicket-taking bowlers. We can make reakthroughs. You can turn to anyone to take wicket and it makes life easier for me. Our execution was very good. I give credit to our bowlers. They set up the Test for us—to be able to take 10 wickets on really flat wickets here today, they deserve a lot of credit," he said.