CPL in IPL, Big Bash league: Shoaib Malik
Port of Spain (Trinidad):  Former Pakistan captain Shoaib Malik of the Barbados Tridents has predicted that the Limacol Caribbean Premier League (LCPL) will become "huge" after the success of the ongoing inaugural tournament."After the IPL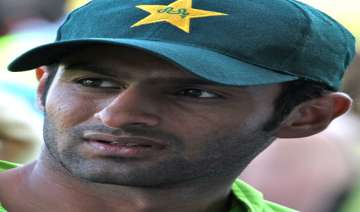 IANS
August 23, 2013 11:07 IST
Port of Spain (Trinidad):
  Former Pakistan captain Shoaib Malik of the Barbados Tridents has predicted that the Limacol Caribbean Premier League (LCPL) will become "huge" after the success of the ongoing inaugural tournament.
"After the IPL and the Big Bash League you can take this as third in the world and it is just the first year," said Malik.
"The response from the West Indies fans has been awesome. Whenever you are playing a league it is about people coming to the ground, that is the key to success, and I have seen that here," reports CMC.
Malik has been one of the stars of the show as the leading batsman with 223 runs from seven innings, as well as three wickets.
Malik's team, led by Kieron Pollard, plays Chris Gayle's Jamaica Tallawahs in the second semi-final Friday.
"People have been coming from everywhere," said Malik, still only 31, despite being a veteran of 32 Tests, 216 One-Day Internationals and 53 Twenty20 Internationals.
The Limacol CPL has given Malik a rebirth after he was dropped for Pakistan's tour of Zimbabwe.
He has been a star in the CPL, both with the bat and ball, relishing pitches that have often assisted the slower bowlers.
"I was struggling with my shoulder and my elbow but I have had surgery for my elbow and I have worked hard in the gym," he said.
"Now I am absolutely fine. I can even bowl 30 overs in one day. I am very happy and I want to play as an all-rounder, that is my priority".