Cricket fraternity welcomes nomination of Tendulkar for RS
New Delhi, Apr 26: Former cricketers today welcomed the government's nomination of Sachin Tendulkar for a Rajya Sabha seat, saying that it was a great honour and the iconic batsman deserved it for bringing laurels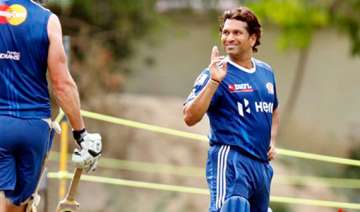 India TV News Desk
April 26, 2012 22:00 IST
New Delhi, Apr 26:
Former cricketers today welcomed the government's nomination of Sachin Tendulkar for a Rajya Sabha seat, saying that it was a great honour and the iconic batsman deserved it for bringing laurels to the country.
Former stumper Kiran More described the government's move as good news for the sports fraternity.
"It's a great news. It's good for the entire sport fraternity. It's undoubtedly a great honour for Tendulkar and he deserves it. He is a great ambassador of the game," More told PTI.
"I hope Sachin would do a great job. There have been a lot of issues in sport, with cricket being given the top priority. His valuable inputs would definitely help the Indian sport. He may not devote a lot of time to attend Rajya Sabha but he can convey his ideas. I'm looking forward to see him as a Rajya Sabha member," he added.
Another former wicket-keeper Syed Kirmani congratulated Tendulkar for being nominated to the Rajya Sabha but gave a guarded response on how the iconic batsman would conduct in his role in the Parliament.
"Many congratulations to him. But it's up to him how he goes about it if he accepts it at all. It's difficult to say whether this move will give us results. It's like you cannot say a great cricketer to be a great coach. It's entirely up to him to manage this. I wish him all the best," Kirmani said.
Former batsman and coach Anshuman Gaekwad said Tendulkar would remain as a straightforward person and not change his attitude and approach to life even if he becomes a Rajya Sabha member.
"It's an honour to be a Rajya Sabha member. Having known Sachin from really close quarters, I don't think he will be able to do justice to the position. He is a straightforward person. I know his attitude and approach. He will not change his ideology or bend himself to do some favour," he said.
"You know what politics is. We sportspersons tend to hit the ball straight but politicians hit the ball indirectly. I think Sachin deserves much more than that. Why only Sachin, there are other sportspersons like Vishwanathan Anand, Geet Sethi, Abhinav Bindra and many others who should also be a part of the Upper House," said Gaekwad.
Welcoming Tendulkar for a seat at the Rajya, former Test cricketer and Lok Sabha MP Kirti Azad said, "People have been nominated in the fields of art, literature, science etc. So Tendulkar is one of the greats of cricket. It's very good if he comes to Parliament."
Former opening batsman Arin Lal also welcomed the government's move, saying, "It's a great honour for Tendulkar and he richly deserves it. He has given so much joy to the country."