Despite Lehmann's calls, Stuart Broad not concerned about Ashes reception in Australia
London: Stuart Broad insists he can't wait to return to Australia this summer despite Darren Lehmann's calls for crowds to ''give it to him.'' This war of words  has prompted  security concerns from England.The feisty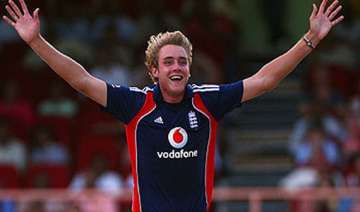 India TV Sports Desk
August 29, 2013 14:10 IST
London:
Stuart Broad insists he can't wait to return to Australia this summer despite Darren Lehmann's calls for crowds to ''give it to him.'' This war of words  has prompted  security concerns from England.
The feisty England paceman has accepted an apology from Australia coach Lehmann over comments. Lehmann  has been fined fined by the International Cricket Council.
Lehmann branded Broad a cheat during a light-hearted FM radio interview and called on Australian audiences to ''send him home crying'' from the upcoming Ashes series.
The comments were slammed as irresponsible by England coach Andy Flower, who said there is a need for extra security for Broad in Australia.
But Broad is clearly not worried, making light of the situation. ''l feel like a rock star with some big heavies behind me. I'm not concerned at all,'' said Broad, who will captain England's Twenty20 side against Australia in Southampton.
''I've toured Australia a couple of times. I've always loved Australia, it's a fantastic place to go with great restaurants and good bars.''I see that as being no different.
While Broad conceded Lehmann's comments were a distraction during last week's fifth Test at The Oval, he spoke to the coach after the match and moved on.
Broad is keen to continue England's recent dominance over their bitter rivals in Southampton.
Both sides will take a distinctly different look into two T20 games and five one-dayers, with England resting the bulk of their Ashes-winning squad.