Dhoni's friend-cum-agent Arun Pandey denies report of captain's stake in Rhiti Sports firm
New Delhi, Jun 3: Team India captain Mahendra Singh Dhoni does not own any stake in Rhiti Sports Management(P) Ltd, his agent-cum-friend Arun Pandey said in a statement today. The denial came after Economic Times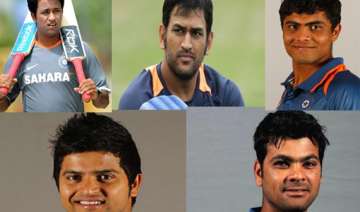 India TV News Desk
June 03, 2013 17:51 IST
New Delhi, Jun 3:
Team India captain Mahendra Singh Dhoni does not own any stake in Rhiti Sports Management(P) Ltd, his agent-cum-friend Arun Pandey said in a statement today.
The denial came after Economic Times today published a report about Dhoni having 15 per cent stake in Rhiti Sports, which also acts as agent for Pragyan Ojha, Suresh Raina, Ravindra Jadeja and R P Singh. 
R P Singh on Monday issued a statement saying that he had no connections with Rhiti Sports Management.
A statement issued by Dhoni's friend-cum-agent Arun Pandey said:
"We at Rhiti Sports Management Pvt Ltd are greatly aggrieved at the widespread media reports regarding alleged conflict of interest of MSD.
"Though not obligated to, but in order to put at rest these widespread speculations, we are issuing the following statement to bring in knowledge the correct factual matrix:- 
"1. As on date, MSD holds no shareholding in Rhiti Sports Management(P) Ltd . However, it is made clear that shareholding was allotted to MSD on 22.03.2013 only to secure certain old outstandings which were due for more than one year. 
"2. Further the payments were cleared in April 2013 and the shareholding was transferred back to promoter of the company on 26.04.2013.
"It is made clear that the management of Rhiti Sports Management (P) Ltd understands its obligations to the field of sports and country, and adheres to the laws of the land. Sd/ Arun Pandey, chairman and managing director."
A report in Economic Times had said , there appeaed to be a conflict of interest between Dhoni the businessman and Dhoni the captain.
The Rhiti Sports statement was silent about the Team India players, for whom the firm has been acting as agent.
The ET report had said, since Dhoni is the captain of Chennai Super Kings, it was not coincidental that in January 2012, aftr eight consecutive Test losses faced by Team India, the CSK owner and BCCI president N Srinivasan reportedly used his veto powers to spot a 3-2 vote in the selection to remove Dhoni as captain and player from the Test team.
It is also coincidental that Raina and Jadeja, who are managed by Rhiti Sports, play for Chennai Super Kings.
Dhoni is also a vice-president in India Cements, the company that owns CSK.
"Dhoni is part of the corridors of power," says Rahul Mehra, a lawyer who has been opposing sports management in India.
"Which selector will oppose Dhoni when he is a part of the think-tank in CSK, which is owned by a company of the BCCI president, and he himself is a vice-president in that company?" ,asked Mehra.
Under BCCI rules, the 15-member team for a tour is picked by a group of five selectors. The captain and coach have a say in the selection meeting, but they don't have a vote.
"The captain gives inputs to selectors," confirms Thakur of BCCI.
On tour, the playing 11 is picked by the captain, vice-captain and coach.
"The players managed by Dhoni's company will have an unfair advantage," says former India cricketer Maninder Singh.
Shailendra Singh, joint MD of  marketing firm Percept, which has managed cricketers like Kapil Dev, Sourav Ganguly and Yuvraj Singh in the past, says,  there's no problem in the arrangement Dhoni has with Rhiti, but it needs to be seen in the current context. "There's so much muck in the corridors," says Singh.
Dhoni and Arun Pandey have a 15-year old friendship, and they are now business partners.
In 2007, Pandey started negotiating endorsement deals for Dhoni. In July 2010, Dhoni selected his friend's firm Rhiti Sports for a three-year deal worth Rs 210 crore.
In 2011-12, Rhiti Sports recorded revenues of Rs 63 crore and a net profit of Rs 2.5 crore.
Rhiti Sports in a  board meeting held on March 22, 2013, approved the allotment of 30,000 shares (or 15.1% stake) to Dhoni. The shares were allotted at par value, which means Dhoni paid Rs 3 lakh for the 15.1% stake.
Dhoni also floated companies, , in partnership with Pandey and/or Rhiti Sports, to enter into new business areas like image licensing (in March 2012, through Rhiti MSD Alamode Pvt Ltd) and gyms (in February 2013, through Sportsfit World Overseas Pvt Ltd).
In Rhiti, MSD Alamode Pvt Ltd, Dhoni and his wife Sakshi hold 65%; Pandey 30% and Rhiti Sports 5%.
The company is  in the business of "licensing the use of  Dhoni's name for various products like consumer goods, luxury items and other fashion-related products, and enter into ventures/business with Dhoni.
Sportsfit World Overseas is in the business of gyms. Rhiti MSD Alamode owns 73% of this company. Another 26% is held by Sajid Shamin, the former marketing head of Reebok India, and 1% by Arun Pandey.
In other words, Dhoni has an equity interest, direct or indirect, in at least three firms of which Rhiti Sports is also a part.
Dhoni, who has a passion for motorcycles, also owns a stake in Rhiti MSD-N Motorsport India. This company runs the MSD RN Racing Team, which participates in the World Superbike Championship.
The company was originally called N Motorsport India and promoted by two Bangalore residents, Nandish Domlur and Amit Sandill.
On September 2, 2012, that company moved an application to change its name from N Motorsport India to Rhiti MSD-N Motorsport India.